With so much piled up on in her Hollywood plate, it seemed like a given that scandal would now be Bonita's middle name. However, in actuality, the bratty bad girl turned super sleuth's life was, well, a bit dull. Bonita didn't have a "Hollywood mom," forcing her to work. Drinking and drugs were not on the Granville menu either, nor were wild parties and casual flings. With the exception of a school girl crush on fellow child star Jackie Cooper, Bonita's nights were spent alone, and scandal-wise, very uneventful. Financially, the Granvilles made sure their daughter's money was properly saved and invested. In 1943, at the age of twenty, Bonita signed a three year contract with RKO studios paying her a healthy $15,000 per picture.
Bonita's first film as an adult would be the compelling Hitler's Children in 1943. Based on Adolf Hitler's insane plan to populate the world with children born of his "master race," Bonita plays Anna Muller, a teacher who becomes the object of affection for young "Nazi in training," Karl Bruner (actor Tim Holt). When Anna spurns Karl's advances (Herr Karl wants to fulfill the Fuhrer's propitagation prophecy by mating with Anna) he threatens to have her sterilized. Filled with propaganda, the film has many flaws, of which Bonita's, as well as Holt's acting is not one of them. MGM would borrow Bonita for two of it's popular Andy Hardy films (Andy Hardy's Blonde Trouble in 1944 and Love Laughs at Andy Hardy in 1946). We were seeing a new, sultry, seductive Bonita Granville, far removed from her bratty kid and Nancy Drew days. This was never more evident then in 1944's Youth Runs Wild where she plays a sexy street-wise girl from the wrong side of the tracks. While in 1946's underrated murder mystery The Truth About Murder, Bonita showed she could glam it up with the best of them.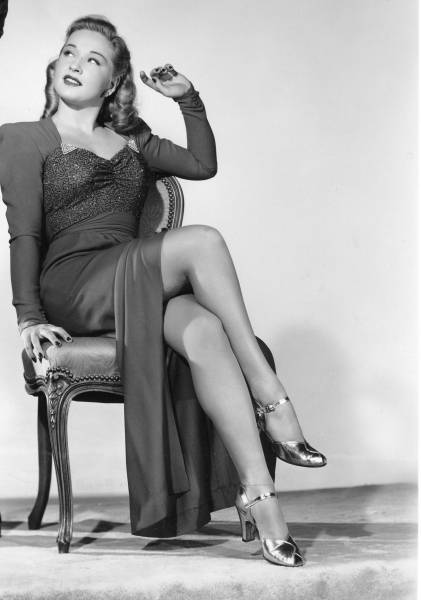 While the bulk of her screen work as an adult can easily be categorized as B-Movies, Bonita was still one of Hollywood's most loved actresses. She was working steadily, and better roles seemed certain for her down the road. That is until a certain bump popped up on that road, which would produce a radical change in the direction of her life.
In 1947, Bonita was signed for the starring role in The Guilty. This film would give her fans the chance to see both the good and bad Bonita on screen together for the first time. She played the role of Estelle and Linda Mitchell, twins with completely opposite natures, one good, one evil. It was like Little Mary of These Three out to murder goody-two shoes Nancy Drew!
One of the financiers of The Guilty was a young Texas oilman named Jack Wrather, who quickly became smitten with his pretty star. A romance quickly blossomed and the two were married soon after. Jack Wrather was an "old-fashion guy" and wanted his new wife to devote her full attention to their marraige and eventual family. Bonita, all of twenty-four years old, was agreeable to her husband's wishes and retired from acting. "Playing a love scene with someone else irritated him," Bonita was quoted in a 1969 L.A. Times interview. "I'd already seen too many marriages break away to risk it.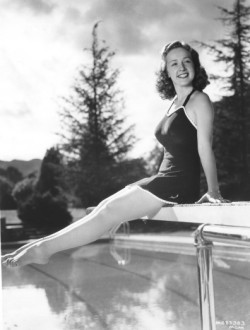 Bonita gave Jack two lovely children, who they both doted over. However, Bonita, who had been acting since she was practically a toddler, was not ready for the role of just being Mrs. Jack Wrather, stay at home mom and social butterfly. Luckily for both Jack and Bonita, jack valued his wife's input and wisdom in regards to his business ventures. So much so, that he frequently ran his day-to-day wheeling and dealings by her.
Bonita became one of Jack's most valuable resources, as he began making his mark on the Hollywood production scene. With Bonita's input, Jack would go on to produce two highly successful television shows, The Lone Ranger (1949) and Lassie (1954). Bonita was brought in as co-producer on Lassie and also directed several of the shows. "When Jack brought The Lone Ranger, he talked things over with me," she explained in the times interview. "When he brought Lassie, well the children were gone from 9 to 3 and I decided to go to work on the show." With Bonita's help, Jack was also able to get the go-ahead from Disney to open the Disneyland Hotel, directly across from the famed theme park in Anaheim,California (which is still the premier hotel for visitors to Disneyland).
Bonita not only possessed a head for business, but was the owner of a compassionate heart as well. The mother of two had a special spark for disabled children, and worked frequently with blind and hearing impaired kids. Bonita and Jack remained happily married until Jack's death in 1984. Four years later, Bonita herself would succumb to cancer, passing away in 1988 at the age of sixty-five. The former bad girl of the silver screen, who raised much hell in These Three and Maid of Salem proved to be not much of a hellion in her real life. Poster child for Hollywood kid stars? Not unless that means remaining faithfully married to one man, or being a loving mother, with a caring heart for those less fortunate, not to mention being an astute successful business woman. Life behind the scenes for Bonita Granville; kinda dull? Maybe, but I can imagine that many of her peers would have traded a few of their Oscars and wild parties for her type of boredom.