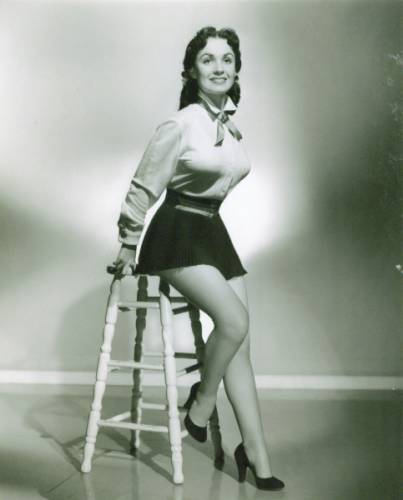 SUSAN CABOT
This pretty, petite actress began her career playing all the exotic types from Indians to Arabic slave girls, however, she would later find her niche, playing "Bad Girl" parts in films such as 1957's Sorority Girl and Roger Corman's 1960 horror camp classic, The Wasp Woman.
FILMOGRAPHY: On the Isle of Somoa (50), Tomahawk (51), The Duel at Silver Creek (52), The Battle at Apache Pass (52), Son of Ali Baba (52), Gunsmoke (53), Ride Clear of Diablo (54), Sorority Girl (57), Saga of the Viking Women (57), Carnival Rock (57), Machine Gun Kelly (58), War of the Satellites (58), The Wasp Woman (60).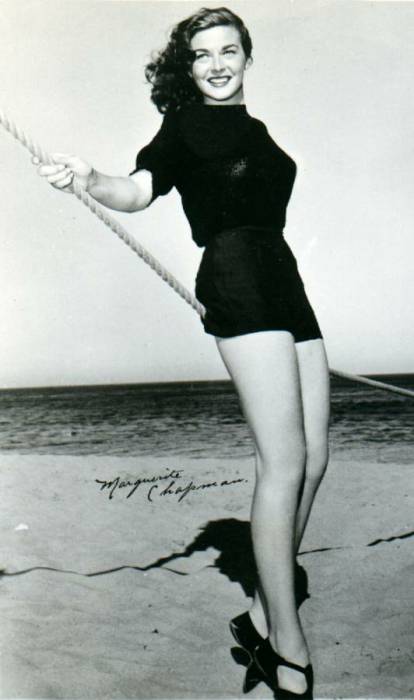 MARGUERITE CHAPMAN
A Beautiful brunette with hypnotic eyes, this former model enjoyed a steady, if not spectacular Hollywood career. One of her first big breaks was starring in the Republic Studios 1942 action serial Spy Smasher, which is deemed as one of the most exciting serials ever churned out by the studio.
FILMOGRAPHY: Spy Smasher (42), A Man's World (42), Murder in Times Square (43), Counter-Attack (45), Mr. District Attorney (47), Flight to Mars (51).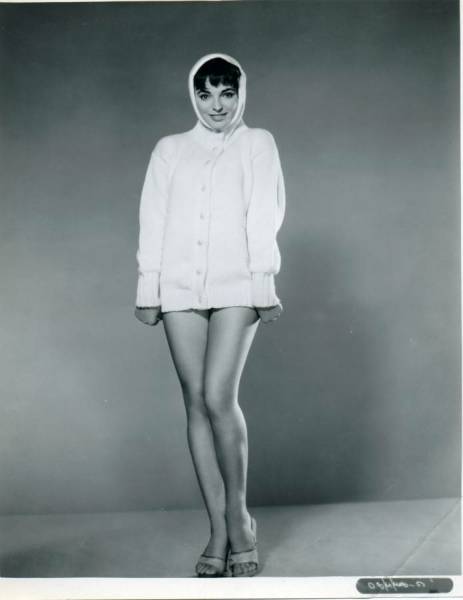 JOAN COLLINS
One of Hollywood's sexiest actresses, Joan has been turning us on for over 50 years; first as a B-Movie kittenish cutie pie in films such as 1955's The Girl in the Red Velvet Swing, and Island in the Sun in 1957, then on television as the steamy Alexis Carrington in the 1980's nighttime soap, Dynasty.
FILMOGRAPHY: Turn the Key Softly (53), Our Girl Friday (54), Land of the Pharaohs (55), The Virgin Queen (55), The Opposite Sex (56), The Wayward Bus (57), Island in the Sun (57), Esther and the King (60), Seven Thieves (60), Esther and the King (60), Up in the Cellar (70), Quest for Love (71),Tales From the Crypt (72), The Bawdy Adventures of Tom Jones (76), Empire of the Ants (77), The Bitch (79).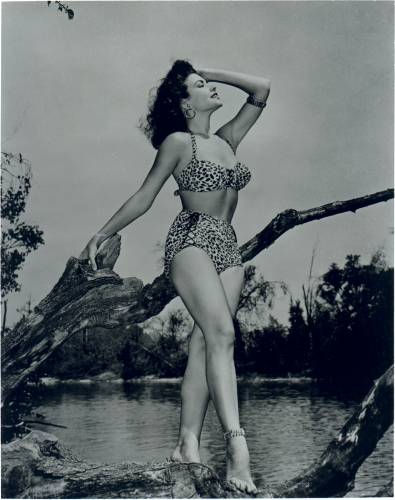 MARA CORDAY
If beauty was the barometer for success in Hollywood, Mara Corday would have been one of it's biggest stars. As gorgeous as any Hollywood star who ever graced the screen, Mara was instead limited to low-budget B-Movies schlock such as 1955's Tarantula and The Giant Claw in 1957. To see what might have been, check out her very convincing performance as the leader of a female gang of thugs in Girls on the Loose.
FILMOGRAPHY: Drums Across the River (54), The Man From Bitter Ridge (55), So This is Paris (55), Foxfire (55), Tarantula (55), Naked Gun (56), Raw Edge (56), The Giant Claw (57), Undersea Girl (57), The Quiet Gun (57), Girls on the Loose (58).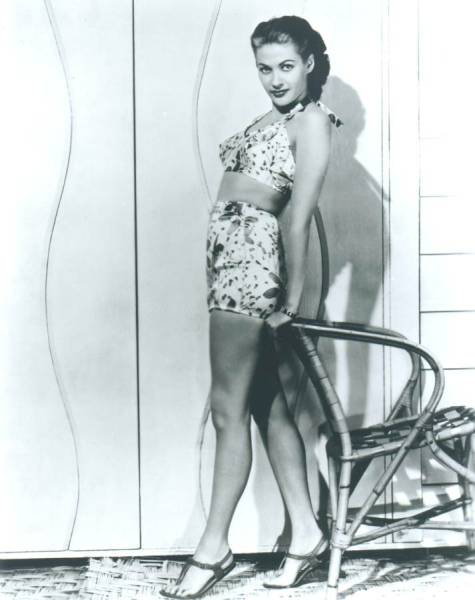 YVONNE DE CARLO
Dark, sultry and mysterious, Yvonne De Carlo was well served in exotic roles such as 1947's Slave Girl and as Arabian Princess Scheherazade in 1950's Desert Hawk. However, despite nearly a hundred films, she will forever be remembered by most as the ghoul matriarch Lilly Munster of the hit 60's show The Munsters.
FILMOGRAPHY: Deerslayer (43), Frontier Gal (45), Salome, Where She Danced (45), Brute Force (47), Song of Scheherazade (47), Slave Girl (47), Black Bart (48), Casbah (48), Criss Cross (49), The Desert Hawk (50), Tomahawk (51), The San Francisco Story (52), Hurricane Smith (52), Sombrero (53), The Ten Commandments (56), Border River (54), Shotgun (55), Raw Edge (56), Timbuktu (59).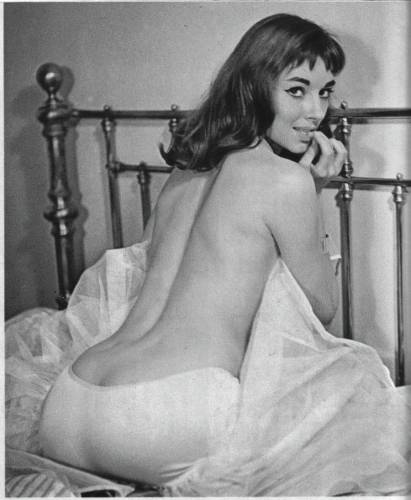 VIKKI DOUGAN
Alright, so Vikki wasn't much of a film star, but I felt compelled to add this blonde bombshell because she so epitomized the campiness and excess of the wacky 50's. Nicknamed "The Back," due to her "reverse cleavage" dresses which accentuated her gorgeous derriere, Vikki became the talk of Hollywood.
FILMOGRAPHY: The Great Man (57), The Tunnel of Love (58), The Rebel Set (59),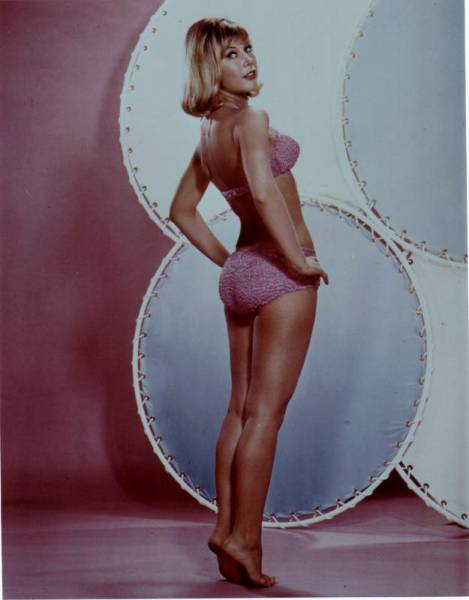 BARBARA EDEN
Yeah buddy, prime time television never looked sexier then when beauteous Barbara donned her pink Genie outfit and blinked into our homes in the sixties in I Dream of Jeannie. Prior to her hit TV show, Barbara popped up in several B-Movies such as Voyage to the Bottom of the Sea in 1962 and Ride the Wild Surf in 1964.
FILMOGRAPHY: A Private Affair (59), Flaming Starr (60), Twelve Hours to Kill (60), All Hands on Deck (61), Voyage to the Bottom of the Sea (61), The Wonderful World of the Brothers Grimm (62), The Seven Faces of Dr. Lao (64), Ride the Wild Surf (64), Harper Valley P.T.A. (78).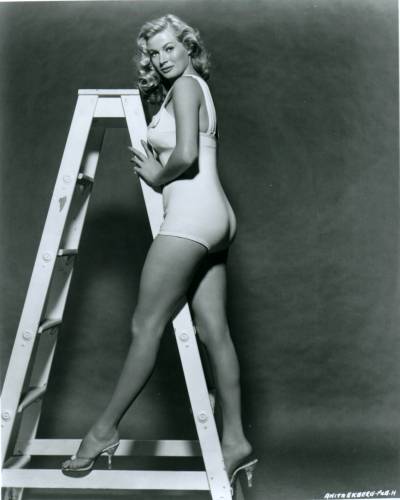 ANITA EKBERG
So mesmerizing was the beauty of Anita Ekberg, that I would have watched a movie of this Swedish dish just taking deep breaths. Voluptuous in a way you will never find associated with today's actresses, Anita was sophisticated sex in a bottle, as can be witnessed in her most popular film 1960's La Dolce Vita.
FILMOGRAPHY: War and Peace (56), Back From Eternity (56), Zarak (56), Valerie (57), Paris Holiday (58), Screaming Mimi (58), Sign of the Gladiator (59), La Dolce Vita (60), The Mongols (61), Boccaccio '70 (62), 4 for Texas (63) Call Me Bwana (63), The Alphabet Murders (65), Fangs of the Living Dead (69).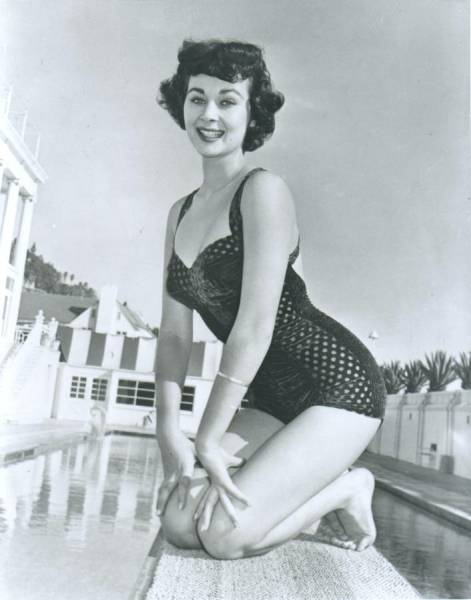 MARLA ENGLISH
Another classic "Bad Girl," sexy Marla probably looked a little too much like Elizabeth Taylor for her own good. A popular model in 50's men's magazines, this beautiful brunette unfortunately could not escape B-Movie Hell in Hollywood. Marla wasn't a bad actress and was very convincing in the 1956 teen exploitation flick Runaway Daughters as the wayward poor little rich girl. Her versatility was on display as an evil gold-digger in Voodoo Woman in 1957.
FILMOGRAPHY: Shield for Murder (54), Desert Sands (55), Hell's Horizon (55), Three Bad Sisters (56), The She-Creature (56), Runaway Daughters (56), Voodoo Woman (57) Flesh and the Spur (57).