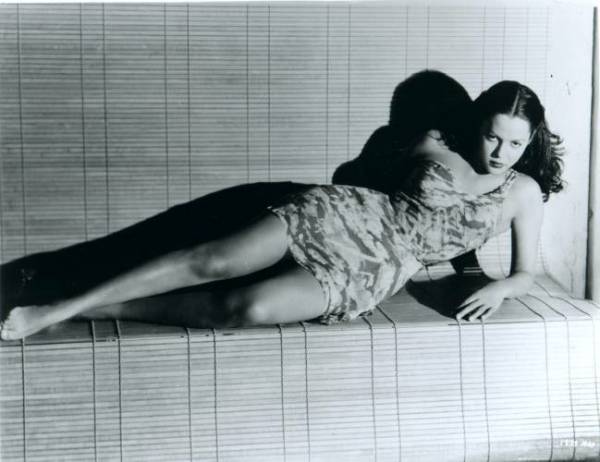 ACQUANETTA
A gorgeous B-Movie actress with dark, exotic features, Acquanetta had a brief fling with fame in the early 40's, starring in Captive Wild Women in 1943, and it's sequel Jungle Woman the following year. However, meatier parts never materialized and by the 50's, her career was basically over.
FILMOGRAPHY: Rhythm of the Islands (43), Captive Wild Woman (43), Jungle Woman (44), Dead Man's Eyes (44), Tarzan and the Leopard Woman (46) Lost Continent (51)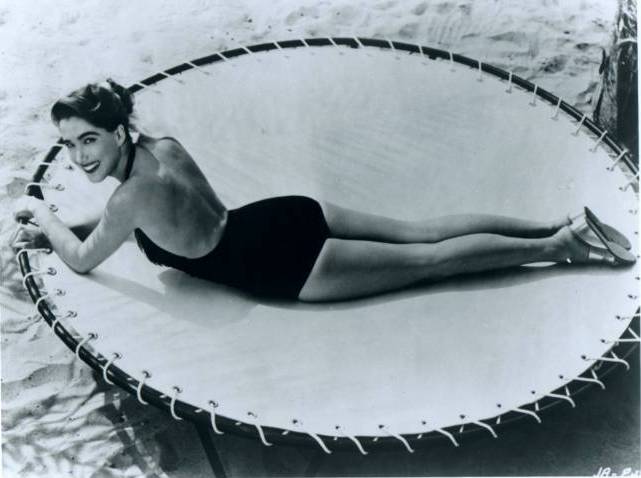 JULIE ADAMS
A strikingly attractive actress, with a million dollar smile, Julie first made a name for herself in Westerns, starring in over a dozen within the first four years of her film career. Still, she is probably remembered most for her turn as the feminine bait used to capture the amphibious half-man half-fish monster in the 1954 horror classic, The Creature From the Black Lagoon.
FILMOGRAPHY: The Dalton Gang (49), Bend of the River (52), Horizons West ((52), The Mississippi Gambler (53), Wings of the Hawk (53), The Creature From the Black Lagoon (54), Four Girls in Town (57) Slim Carter (57), The Gunfight at Dodge City (59), The Underwater City (62)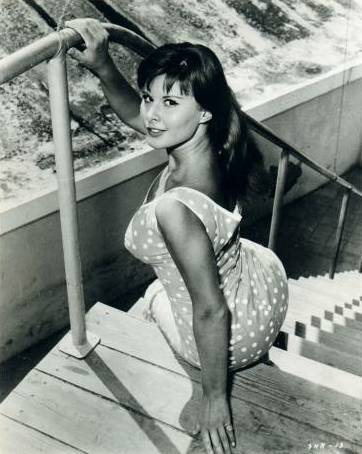 MARISA ALLASIO
Voluptuous Marisa Allasio was one of several Italian actresses who appeared on the horizon after the success of Sophia Loren and Gina Lollobrigida. Unfortunately, this gorgeous blonde's appeal never quite crossed over the Atlantic to the U.S. One of her more memorable screen moments came in the 1958 film The Seven Hills of Rome which starred her opposite opera great Mario Lanza.
FILMOGRAPHY: (English titles) Poor But Beautiful (58) Seven Hills of Rome (58), Venice, The Moon and You (58), The Sword and the Cross (60)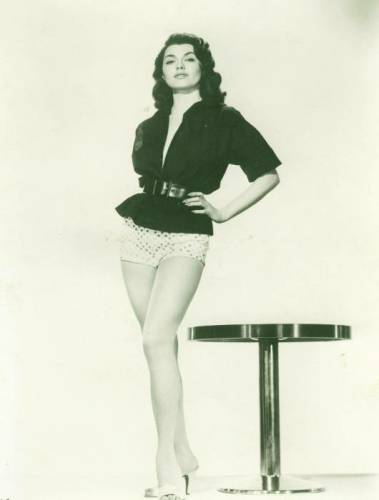 VALERIE ALLEN
Sexy former Vegas chorus girl, Valerie was signed to Paramount Studios, but never rose above supporting roles. She made several appearances on popular 60's TV shows such as Bat Masterson, Gunsmoke and Leave It to Beaver. Valerie was briefly married to leading man actor Troy Donahue.
FILMOGRAPHY: The Joker is Wild (57), Hot Spell (58), The Nine Lives of Elfego Baca (58), The Five Pennies (59), Pillow Talk (59), The Devil's Bedroom (64), Come Spy With Me (67)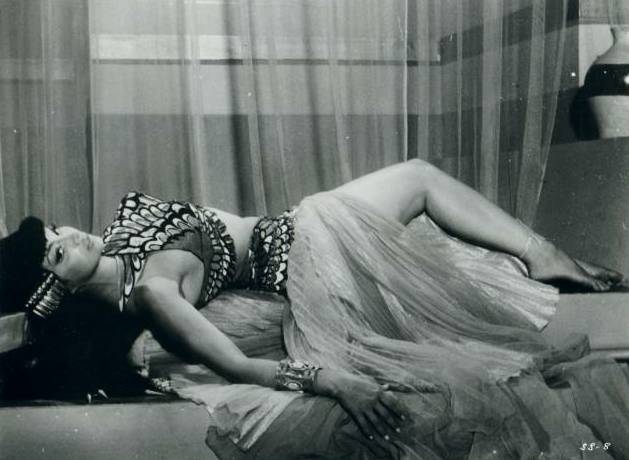 CHELO ALONSO
Ay Caliente! This curvaceous Cuban born actress began as a dancer, before making her mark in several 60's Italian "Sword and Sandal" flicks. Although usually low-budget, these films are worth watching just to see sexy Chelo's exotic dance numbers, such as the one she performs in 1962's Son of Samson. Many of her fans still remember her small role in the Clint Eastwood classic, The Good, The Bad and the Ugly.
FILMOGRAPHY: Sign of the Gladiator (59), The Pirate and the Slave Girl (59), Terror of the Red Mask (60), Valley of the Doomed (60), Morgan the Pirate (61), Queen of the Tartars (61), Son of Samson (62), Atlas in the Land of the Cyclops (63)
ELGA ANDERSEN
German born actress with Super Model looks, Elga starred in several French films in the 50's and 60's. U.S. fans may remember her from her starring roles opposite Bob Hope in 1964's A Global Affair and in Le Mans as Steve McQueen's love interest in 1971.
FILMOGRAPHY: Le Scorpion (62), A Global Affair (64), Sex Power (70), Le Mans (71).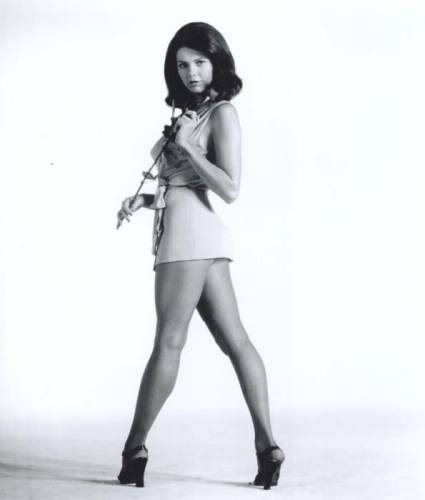 KATHRINE BAUMANN
A runner-up to the 1970 Miss America crown, gorgeous Kathrine made the expected move to Hollywood and a hopeful movie career. Unfortunately for this ex-beauty queen, what followed was a string of really bad Z-Grade movies such as Chrome and Hot Leather in 1971 and The Thing with Two Heads the following year. Moving on from Hollywood, Kathrine would find her niche outside of tinsel town creating a successful line of artistic jewelry and accessories which she still markets today.
FILMOGRAPHY: Chrome and Hot Leather (71), Evel Knievel (71), The Thing with Two Heads (72), The Take (74), 99 and 44/100 Dead (74), Slashed Dreams (75)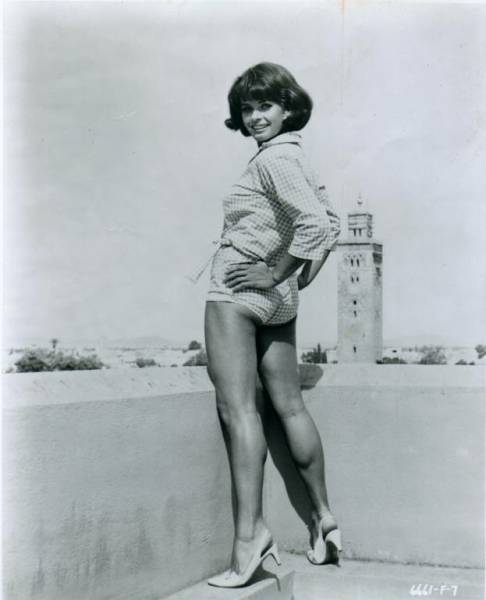 SENTA BERGER
This drop-dead gorgeous, Austrian actress heated up just about any film she appeared in. Senta's most memorable film moments came as an Israeli revolutionary in 1966's Cast A Giant Shadow, and as a sexy femme fatale in Dean Martin's James Bond spoof The Ambushers the following year. She also looks very fetching in the ridiculous Italian film When Women Had Tails in 1970.
FILMOGRAPHY: The Secret Ways (61), The Terror of Dr. Mabuse (62), Cast A Giant Shadow (66), Bang! Bang! You're Dead! (66), The Ambushers (67), When Women Had Tails (70).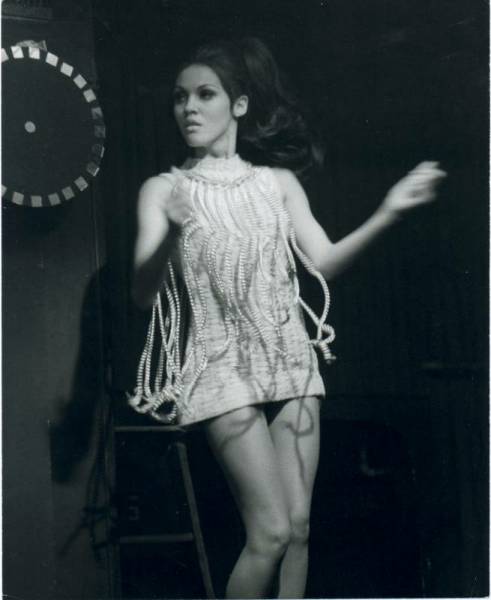 MARKI BEY
This sexy fair-skinned African American actress enjoyed a brief Hollywood career during the 70's "Blaxploitation" period. However, anyone seeing her in the 1974 cult classic Sugar Hill, as a voluptuous Voodoo priestess, would wholeheartedly agree that Hollywood shelved this bewitching beauty far too soon. She had a reoccuring role in the hit 70's cop show Starsky and Hutch.
FILMOGRAPHY: The Landlord (70), The Roommates (74), Sugar Hill (74), Hangup (74)