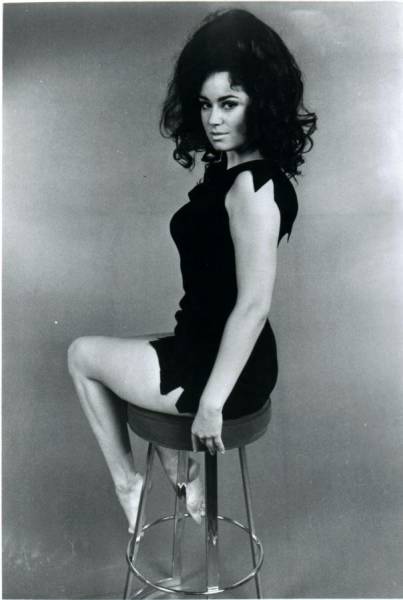 LISA TODD
Question? How many of you guys watched Hee Haw for the songs? One...two...three... Okay, now how many of you watched to drool over Lisa Todd? Too many hands to count! A picture of pulchritudinous perfection sporting a 40-24-38 figure, as far as most males were concerned, Lisa never got enough exposure on the show or in the few B-Movies in which she appeared.
FILMOGRAPHY: Woman Hunt (72), The Doll Squad (73), The Devil's Rain (75), Blood Hook (86)
BEVERLY TYLER
Minxy brunette enjoyed a decent B-Movie career during the late 40's and early 50's. Beautiful Bev was also an accomplished singer, showcased for a time with the San Francisco Symphony Orchestra. Surprisingly, she did very few musicals, but was instead cast often in westerns and film noir.
FILMOGRAPHY: Best Foot Forward (43), The Green Years (46), The Beginning or the End (47), Palomino (50), The Cimarron Kid (52), The Battle at Apache Pass (52), Chicago Confidential (57), Voodoo Island (57), Hong Kong Confidential (58).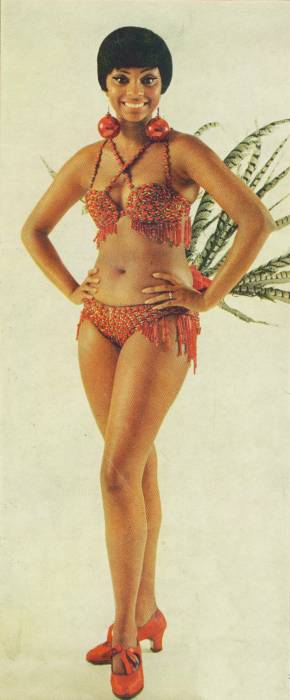 LESLIE UGGAMS
This sexy sepia siren got her big break in show biz, as a teenager, appearing on the popular Mitch Miller show, Sing Along With Mitch in 1961. She would be seen frequently on television throughout the 60's, and would appear in several B-Movies as well. Her career took an upswing in the 70's when she appeared in the celebrated ABC miniseries Roots, for which she garnered an Emmy nomination.
FILMOGRAPHY: Skyjacked (72), Black Girl (72), Poor Pretty Eddy (73), Sizzle (81), Sugar Hill (94).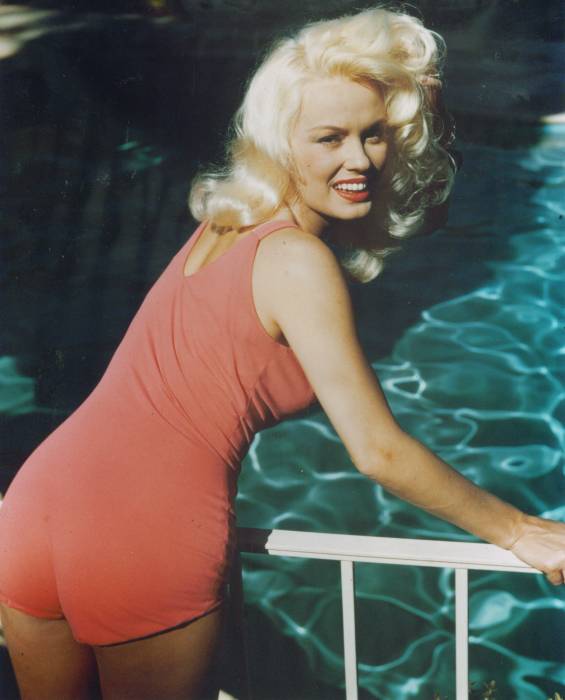 MAMIE VAN DOREN
One can only wonder what this smoldering sexbomb could have done in today's Hollywood. Mamie was the epitome of feminine sexuality, all lusciously rolled into her 36-24-35 bod. She easily outvamps today's so-called glam queens like Pam Anderson, Jenny McCarthy and Carmen Electra.
Mamie's career never rose above B-Movie hell, but her films are some of the more fun to watch, particularly 1958's High School Confidential and Girl's Town which was released the following year.
FILMOGRAPHY: All American (53), Hawaiian Nights (54), Francis Joins the WACS (54), Ain't Misbehavin (55), Untamed Youth (57), The Girl in the Black Stockings (57), High School Confidential (58), The Beat Generation (59), Girls Town (59), Vice Raid (59), College Confidential (60), Sex Kittens Go to College (60), The Private Lives of Adam and Eve (61), 3 Nuts in Search of a Bolt (64), The Candidate (64), The Navy Vs. The Night Monsters (66), The Las Vegas Hillbillys (66).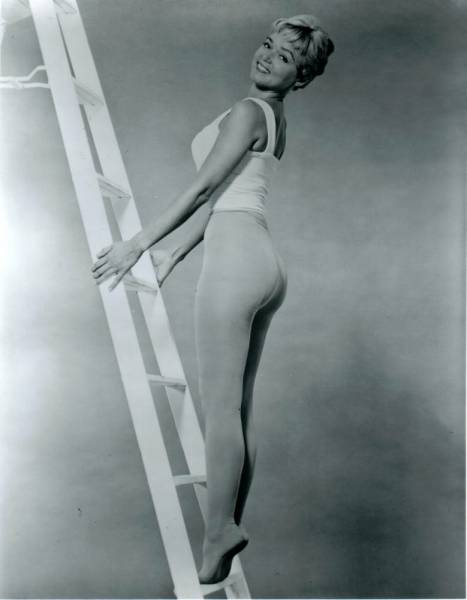 YVETTE VICKERS
It only takes one look at "bootilicious" blonde Yvette Vickers, to understand why men can't help falling for the "bad girls." Although most of her outstanding performances came in cheesy low-budget films such as 1958's Attack of the 50 Foot Woman, Yvette proved she could play with the big boys as well, turning in a small, but memorable performance in the 1963 Paul Newman film Hud, playing, of course, the "bad girl." Yvette was also at her finest in an episode of the creepy television show One Step Beyond, playing a disloyal wife.
FILMOGRAPHY: Short Cut to Hell (57), Reform School Girls (57), Attack of the 50 Foot Woman (58), I Mobster (58), Attack of the Giant Leeches (59), Beach Party (63), What's the Matter With Helen? (71).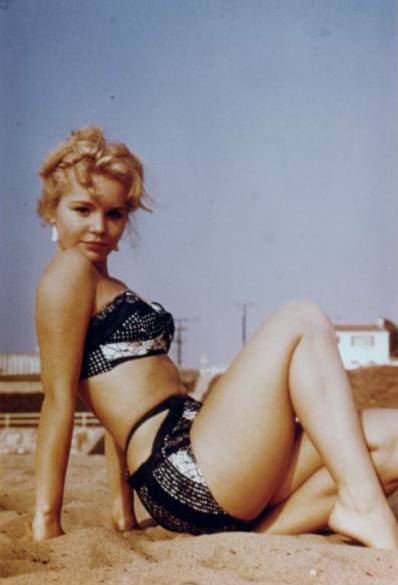 TUESDAY WELD
There was always something a little "naughty" about Tuesday Weld. She always reminded me of the gorgeous society girl, the apple of her daddy's eye, but deep down has a dark side her parents can only imagine in their worst nightmares. Okay, I'm getting caught up in my own personal fantasy, but hey, who couldn't fantasize while checking out this dazzling dame. Tuesday made her acting debut at the tender age of thirteen in the 1956 rock & roll flick Rock, Rock, Rock. Her career never caught fire and she churned out a string of low-budget, and often bizarre films throughout the 60's and early 70's. Check her out as a manipulating murderess in 1968's Pretty Poison.
FILMOGRAPHY: Rock, Rock, Rock (56), Because They're Young (60), High Time (60), Return to Peyton Place (61), The Private Lives of Adam and Eve (61), Bachelor Flats (62), I'll Take Sweden (65), Lord Love a Duck (66), Pretty Poison (68), I Walk the Line (70), Play It As It Lays (72), Who'll Stop the Rain (78), Thief (81), Once Upon a Time in America (84), Falling Down (93).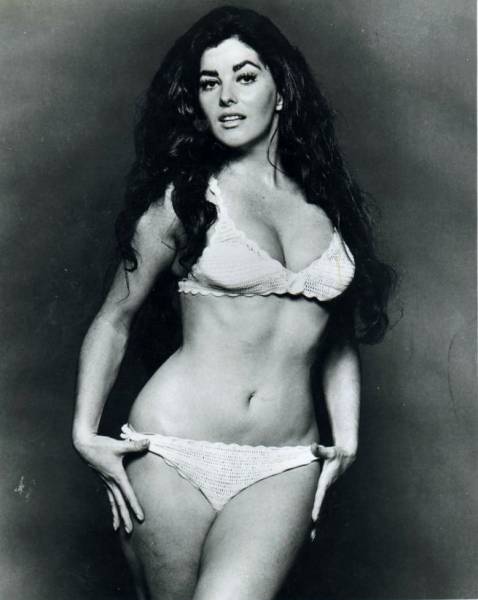 EDY WILLIAMS
Smoldering with sexuality, Edy Williams always seemed to me to be a porn queen masquerading as a legitimate main stream star, and I say that respectfully. Her performance in Russ Meyer's 1970 psycho-sexual masterpiece Beyond the Valley of the Dolls showcased her at her best, playing, "surprise," a "porn queen," who wickedly seduces the weak-minded boyfriend of the film's heroine.
FILMOGRAPHY: The Secret Life of an American Wife (68), I Sailed to Tahiti With an All Girl Crew (68), Where It' At (69), Beyond the Valley of the Dolls (70), The Seven Minutes (71), Dr. Minx (75), Lady Lust (83), Chained Heat (83), Hollywood Hot Tubs (84), Mankillers (87).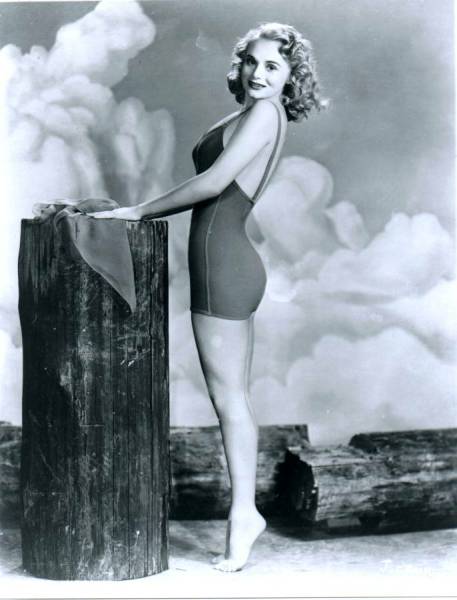 MARIE WILSON
The original blonde bimbo, Marie Wilson was a lovable, lusciously built (39-23-38) lady with a great knack for air-headed comedy. Personally, I prefer her dizzy blonde characters to that of the more popular Judy Holliday. Two of her finest performances came in the 1949 film My Friend Irma, and 1952's A Girl in Every Port, which teamed her up with the great Groucho Marx.
FILMOGRAPHY: Babes in Toyland (34), Miss Pacific Fleet (35), King of Hockey (36), The Invisible Menace(38), Boy Meets Girl (38), Rookies on Parade (41), She's in the Army (42), You Can't Ration Love (44), No Leave, No Love (46), The Fabulous Joe (47), My Friend Irma (49), My Friend Irma Goes West (50), A Girl in Every Port (52), Marry Me Again (53).