Looking back at the year 1964, several memorable moments quickly come to mind: Lyndon B. Johnson enters a second term as President, four long-haired guys from England called The Beatles invade America and a country minister preaching peace, Martin Luther King, Jr. wins the Nobel Peace Prize. Major events indeed, however, for millions of men and boys gathered in front of their television sets, 1964 also signaled the year we fell under the "bewitching" spell of a gorgeous nose wiggling witch named Samantha. I was barely out of diapers myself, which granted me no immunity to the enchantments of beautiful Elizabeth Montgomery, whose show Bewitched, shot to the top of the Nielsen ratings. Yes, I was one of many males who would have had no problem trading places with her television husband Darrin (wicked stepmother or no wicked stepmother), if it meant coming home to this sexy sorceress.
To say Elizabeth took to acting like a duck to water, would be no exaggeration, considering she was the daughter of renown actor Robert Montgomery (Night Must Fall in 1937), and 1941's Here Comes Mr. Jordan) and stage actress Elizabeth Allen. By the tender age of six, Elizabeth had earned her first starring role, albeit in a kindergarten production of Little Red Riding Hood as the Big Bad Wolf. By the time Elizabeth graduated from highschool, it was a no-brainer which direction she would choose between college and acting. With a little help from her dad, elizabeth made her television acting debut in 1951 on her father's weekly tele-drama series Robert Montgomery Presents. Elizabeth would go on to appear several more times on her dad's show, winning accolades from both the press and television audiences. Elizabeth was now ready to free herself from her dad's protective wings and venture out on her own.
In 1955, Elizabeth earned a small starring role in the film The Court-Martial of Billy Mitchell, which featured a stellar cast composed of Gary Cooper, Rod Steiger, Ralph Bellamy and Jack Lord. Still, television would provide the primary avenue for Elizabeth to hone her craft. Besides her father's show, she would be featured on several of the era's top productions such as Alfred Hitchcock Presents, Wagon Train, The Untouchables, and a memorable antiwar episode of The Twilight Zone entitled Two.
Audiences were beginning to notice Elizabeth was more then just Robert Montgomery's daughter. She had proven herself to be an actress to be reckoned with. Another metamorphous was also taking place in front of audiences eyes; Elizabeth was beginning to turn the heads of the male population. The cute teenager was developing quite nicely into a beautiful woman. With all male eyes on her, it was inevitable that her career and love would eventually cross paths. That day came in 1956, in the form of respected actor Gig Young.
During the late 50's and early 60's the networks regularly featured hour-long dramatic series hosted by such luminaries as Alfred Hitchcock and Elizabeth's dad Robert Montgomery. Another such show was Warner Brothers Presents which was hosted by Gig Young. Young had built a solid career in Hollywood, starring in such films as Come Fill the Cup (1951) and Teacher's Pet (1958), earning Oscar nominations for both films. When Elizabeth appeared in an episode of his show, it was love at first sight between the two. Despite the misgivings of her parents (Young was twenty years older then Elizabeth and had a dark reputation) , Elizabeth and Gig married in 1956. A rocky seven years followed with stories of Young's infidelity, drinking and drug use contributing to their marriage's failure. In 1963, Elizabeth would file for divorce.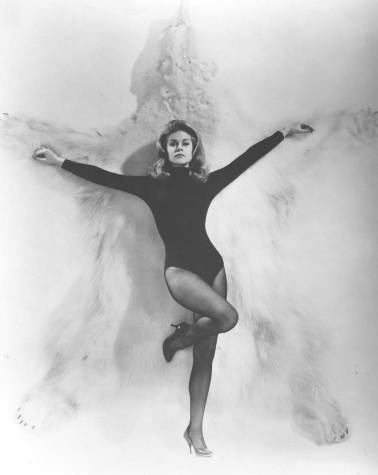 That same year, Elizabeth would take another try at big screen success. She starred with crooner Dean Martin and Carol Burnett in the sexy comedy Who's Been Sleeping in My Bed? as well as the Gangster epic Johnny Cool also released in 1963. Neither film set the box office on fire, however a flame was beginning to flicker in another place, Elizabeth's heart. On Johnny Cool, she worked with director William Asher. The two began dating and shortly after married. Where her marriage to Gig Young had been counterproductive to both her career and personal life, her union with Asher would blossom into a successful collaboration on both fronts.
Asher set out to create a television project for his wife that the two could work on together. With inspiration from the films I Married a Witch (1942) and Bell, Book and Candle (1958), Asher created Bewitched, a comedy situated around a mortal man who marries a real witch, thus inheriting a world of problems and hijinks brought about primarily by her mischief-making family. Elizabeth was cast as Samantha Stephens who, to the mortal eye, appeared to be just your typical suburban housewife. However, with just a wiggle of her cute little nose, or a snap of her fingers she could zap you into a dog or conjure up Ben Franklin. Joining Elizabeth in the original cast was actor Dick York, playing the role of her frazzled and nerve-wrecked husband Darrin Stephens. Playing Darrin's chief nemesis would be acclaimed actress Agnes Moorehead (Johnny Belinda 1948, Hush, Hush Sweet Charlotte 1964). Veteran actors David White (Darrin's boss Larry Tate), George Tobias and Alice Pearce (nosey neighbors The Kravitzs) rounded out the outstanding cast. The first episode aired on ABC in 1964 and was a huge ratings success. Audiences loved the show, making it the most successful prime time series debut in television history (an honor the show held until 1977 when it was bumped from the top spot by the hugely popular Happy Days).
Bewitched would reign in the television ratings war for eight seasons, surviving not only a politically changing world, but several cast changes as well. Dick York left the show for health reasons in 1969, and was replaced by look-a-like actor Dick Sargent (while York's Darrin was the fans favorite, Elizabeth preferred Sargent). Hysterical Alice Kravitz actress Alice Pearce died of cancer two years into the show's run and was replaced by the equally funny Sandra Gould. Other secondary actors came and went adding their own brand of magic to the show, such as Bernard Fox as the rascally Dr. Bombay. Paul Lynde appeared frequently as everyone's favorite uncle, Uncle Arthur. The debonair Maurice Evans popped in as Sam's father Maurice and Alice Ghostley was hilarious as the neurotic Esmeralda.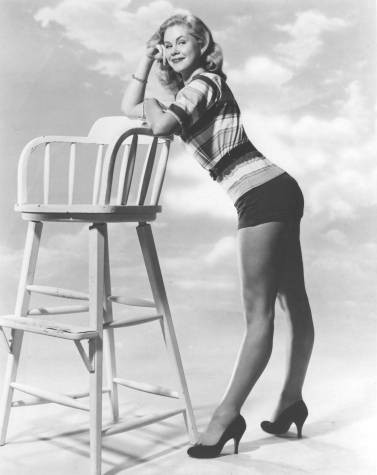 In the seventies, while Bewitched was no longer topping the charts, it still had a pulse and a loyal following. Still, Elizabeth didn't want to see the show fall deeper into mediocrity, and decided to close the book on Samantha and Darrin. Times were changing and so was television, and Elizabeth was smart enough to know that the show had ran it's course. In her personal life, that too had been fruitful as Elizabeth and Bill produced two lovely children. However, just as Bewitched had reached an end, so too had Bill and Elizabeth's marriage. Two years after Bewitched had left the airwaves, the Ashers would file for divorce.
Many didn't predict much of an acting life for Elizabeth after Bewitched (as was the case for many sitcom actors who became trapped in their television characters personas). But those were the ones who hadn't seen or had forgotten Elizabeth's work prior to Bewitched. Elizabeth would put together one of the most successful made-for-television careers to date. She took on roles light years away from Samantha Stephens, such as her Emmy nominated performance as a rape victim in the 1974 film A Case of Rape. I'll admit, looking back at that film, as a young teen, it was shocking and somewhat difficult for me to watch Elizabeth in such a vulnerable role. However, afterwards, I quickly gained tremendous respect for her as an actress. As if she hadn't shaken me and the rest of the world up enough with A Case of Rape, Elizabeth would really knock us for a loop the following year as she introduced us to a alledged axe murderess named Lizzie Borden.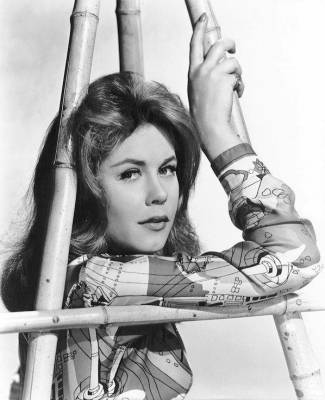 In The Legend of Lizzie Borden, Elizabeth played the title character who allegedly killed both her parents with an axe. Arguably one of the best made-for-television movies ever, this film is forever branded in my mind. From the eery title song to Elizabeth's dastardly, yet unnervingly sexy performance, the film is as chilling as the best of Hitchcock.
Lizzie Borden took an axe and gave her
mother forty whacks, and when she
saw what she had done, she gave
her father forty-one.
She would rightfully earn a second Emmy nomination for her work in The Legend of Lizzie Borden. Elizabeth wasn't finished shaken up the American living room. In 1977 she took on the taboo subject of interracial romance when she starred with former football hero O.J. Simpson in the crime drama A Killing Affair. More successful films followed Elizabeth into the eighties such as Belle Starr (1980), Second Sight: A Love Story (1984) and Between Darkness and the Dawn (1985) to name three of my personal favorites.
Away from the cameras, Elizabeth had found love again, this time with actor/director Robert Foxworth, most remembered for his role on the hit eighties show Falcon Crest. Elizabeth also exhibited a charitable heart as well, lending her time and support to UNICEF (a nonprofit organization dedicated to helping children globally) as well as AIDS awareness organizations. Foxworth would prove to be the love of Elizabeth's life as the two enjoyed a twenty year relationship (the two didn't actually marry until 1993). Sadly, two years after her marriage to Robert Foxworth, Elizabeth Montgomery died of cancer, a passing that left everyone who had known her or experienced her work, deeply saddened.
While she will always be first remembered as the naughty witch with the cute nose twitch from Bewitched, Elizabeth Montgomery proved time and time again that she was one of the world's treasures. A smart dedicated actress who honed her craft into artistic perfection. Thank you Elizabeth, and thank God for reruns, so that your magic will continue to work on generations to come.