In 1970, Pam made her screen debut in the Russ Meyer bizarre cult classic, Beyond the Valley of the Dolls (albeit a very brief screen appearance). That film would however, lead to bigger roles in a series of exploitive B-Movies such as The Big Doll House, Women in Cages (both released in 1971), Hit Man (1972) and The Twilight People (1973). The films were pure camp, with plenty of naked bodies on display, Pam's delicious curves being one of them. After three years in Hollywood, Pam Grier was nowhere near a marquee name, however she was beginning to make waves. While the movies she was featured in were Z-grade at best, her performances in these films made them at least watchable. It would be her next film, Coffy, which would carry her from wannabe to the Queen of American International Pictures (AIP).
Coffy was a jagged-edged, low-budget film about a nurse, who after witnessing her sister becomes strung out on drugs, metamorphoses into a single-minded vigilante bent on waging a one-woman war against the city's drug lords. Coffy is not afraid to use any and all means necessary, including her voluptuous body, to extract her bloody vengeance on the mobsters, crooked cops and dirty politicians behind the endless flow of narcotics on the streets. Many Hollywood film critics quickly wrote Coffy off as cheap, exploitative B-movie fare. However, what they failed to factor into the equation was the effect this unexpected keg of dynamite named Pam Grier would have on her audiences. Despite the paper thin plot, Pam danced through the role of Coffy with such conviction and fire, that you find it impossible to not only enjoy her performance, but believe it as well. In the hands of a lesser actress, the film's shallowness would have been exploited in droves. However, Pam had the grittiness, sex appeal and toughness of mind to ensure that in a forgettable film, she was definitely not a forgettable actress.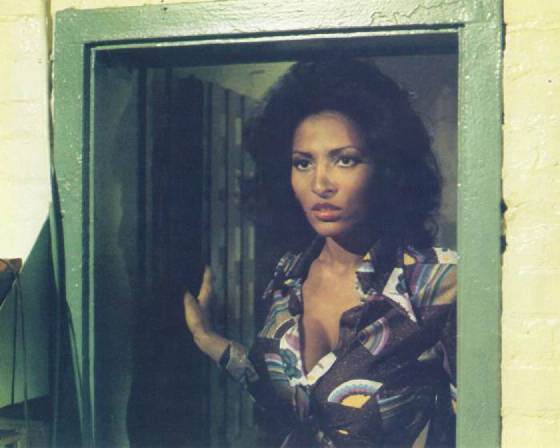 Pam continued down her tawdry path to stardom, recreating her Super-Sister role several times in films such as Foxy Brown and The Arena which were both released in 1974, followed by Sheba Baby, Bucktown and Friday Foster the following year. Unfortunately, the quality of the films continued to be taken from the so-called "blaxploitation" fountain that flowed freely out of Hollywood. Still, it was hard to deny her obvious feminine charms and appeal. New York Magazine went so far as to dub her "Sex Goddess of the Seventies!" While Pam continued to build up a strong (predominately male) audience; her radical film image had not yet attracted a female following. In fact, Pam became the object of criticism from some feminists, as well as from the African American community. Women in the seventies, particularly black women, had a hard time accepting and identifying with Pam's gun toting, blouse dropping, sharp tongue super-heroines. The black media also found it difficult to anoint the brazen Ms. Grier as the successor to Lena Horne and Dorothy Dandridge. Instead of viewing her as a maverick, a glamour queen of the times, African Americans turned their back on Pam box office success, viewing her not as a trendsetter and pioneer, but as a cinematic freak show performer.
Pam's image problems stemmed from the fact that she was walking on untested ground for black women (and in many ways, women in general). In the history of American film, there had never been a black woman portrayed with so much raw sexuality and fiery independence. Pam's characters had male lovers, but they were never defined by them, nor controlled by them. Pam's Coffy and Foxy Brown characters did not stay behind while their men (a la Jim Brown or Fred Williamson) stomped on the bad guys, nor were they the kind who would be just whisked up in a man's arms (think Rhett Butler and Scarlet O'Hara in Gone with the Wind) and taken to bed. Pam's Friday Foster and Sheba Shane characters were just as adept at butt kicking as any macho man on screen. And as far as the bedroom was concerned, she always had the final say-so on who entered it and when. Interestingly, among Pam's few female admirers at the time, was Gloria Steinem, publisher of the ultra-feminist Ms. Magazine, who saw Pam for what she was, a strong independent woman; going so far as to label her "Super Sass!"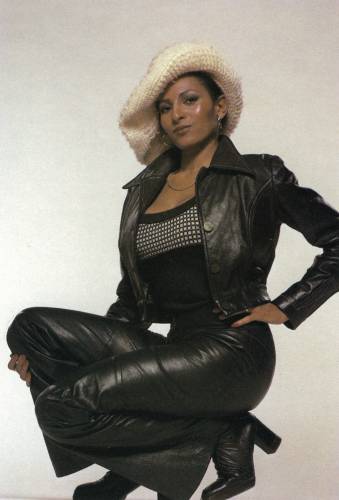 As the decade closed, American International Pictures, the house that Pam built, dropped her like a bad habit. Formerly one of the busiest actresses in Hollywood, Pam's career became tepid at best. Her career would get a critical boost in the 1980's for her mesmerizing performance as a psychotic hooker in 1981's Fort Apache The Bronx. Unfortunately, roles such as that were few and far between for Pam. By the nineties, her career had practically come to a halt; it would take a maverick director, with a fetish for 70's cult movies to bring the black queen of action films back to relevance.
Quentin Tarantino had set Hollywood on fire with two violent, twisted, yet masterfully intriguing films; Reservoir Dogs (1992) and Pulp Fiction (1994). Combining the stylish film noir of the 1940's and 50's with the uninhibited, gore of 60's-70's grindhouse, Tarantino had injected Hollywood with much needed creativity and originality. His next masterpiece would be the resurrection of the "blaxploitation" film, and to do this, Tarantino knew he needed an actress bigger than life. He needed Pam Grier.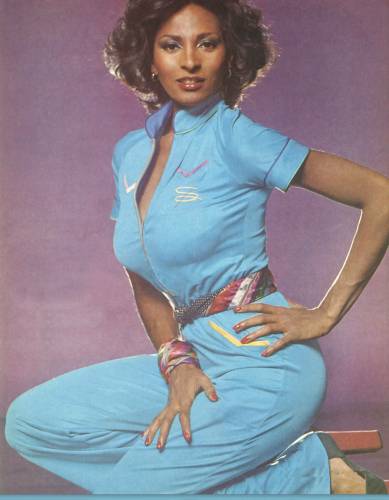 Jackie Brown was tailor made for the comeback of the former Queen of AIP. Playing a struggling airline stewardess who gets caught in the violent world of drug trafficking, Pam's Jackie is a survivor, able to give as good as she gets. The film wasn't the critical success of Tarantino's other films, but it did bring in a hefty $70 million worldwide. Pam Grier was back, and roles, worthy of this fiery, independent actress soon begin to flow in. Pam would go on to star in the films Jawbreaker (1999) and Snow Day (2000), and even got her own short-lived television show, Linc's in 1998. In 2004, she became a cast member on the highly successful Showtime series The L Word.
For Pam Grier, the more than thirty year struggle to find that elusive glass slipper seems over. Today, her old films are enjoying a huge cult following among men, as well as attracting a new generation of female viewers who can now identify and appreciate her strong, independent characters. While recognition as a powerful actress, role model, sex symbol and pioneer was more often then not, a frustrating journey; Pam, like the super-hero she always portrayed, eventually won in the end.