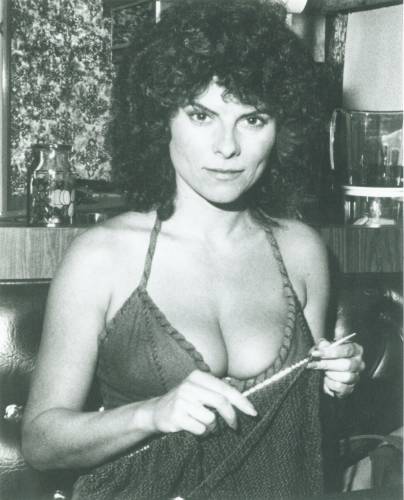 Hollywood also took notice of Adrienne talents, as acclaimed televison producer Norman Lear signed her for his then-latest project Maude. The show would introduce Adrienne to an entirely new audience, which she would quickly win over as title character Bea Arthur's feisty, liberated and sexy daughter Carol. After Maude's successful six year run (1972-1978), Adrienne landed a string of made-for-television movies such as The Darker Side of Terror and Someone's Watching Me, both in 1979 (the latter directed by her then-husband John Carpenter). In fact, it would be with hubby Carpenter's help that Adrienne would make her strongest push towards a big screen career.
In 1980, she played the sexy-voiced DJ Stevie Wayne in Carpenter's classic horror film The Fog. The following year, Carpenter cast her in arguably her most memorable role, as sexy but tough-as-nails Maggie in the apocalyptic film Escape from New York.
For her next film, Adrienne decided to take a break from the monsers and mayhem and have some fun. In the zany Burt Reynolds-Dom DeLuise comedy The Cannonball Run, Adrienne played Marcie, the cleavage flashing, spandex wearing, Lamborghini driving winner of this wacky race. Needless to say, this was the role which firmly cemented her as one of Hollywood's hottest sex symbols (as the pic of her on this page attest).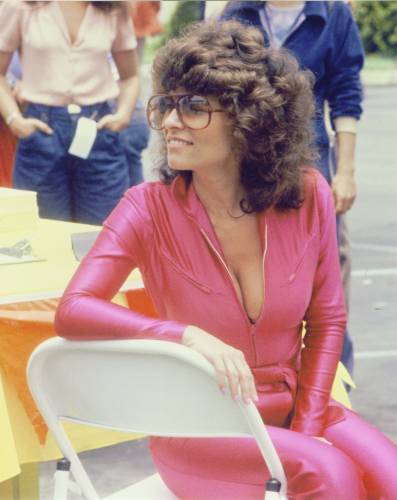 Adrienne's string of B-Movie success continued with back-to-back hits in 1982. Returning to the comfortable surroundings of the horror genre, she first starred in DC comic book adaptation of The Swamp Thing (directed by Wes Craven). Next came the excellently scary Creepshow (continuing Adrienne's association with the best of the horror genre as this place her under Night of the Living Dead's George A. Romero). In the film, Adrienne is a joy to hate, as Hal Holbrook's nagging wife Wilma ("just call me Billie, everybody does") who hal diabolically introduces to his "hungry friend" in the segment titled The Crate.
By the middle of the decade, dark clouds began to settle over Adrienne's personal life and career. In 1984, after five years of marriage, she and John Carpenter divorced. Her film career buckled as well, as she struck out with such duds as 1985's Seduced, Open House in 1987 and the absolutely horrible Cannibal Women in the Avocado Jungle of Death in 1989.
Fortunately, brighter skies lied ahead for Adrienne as the 1990's rolled in. Cupid's arrow would pierce her heart in the form of producer/actor Billy Van Zandt, and the two would marry in 1992. Switching back to television, Adrienne resurrected her career with impressive performances in The Burden of Proof in 1992 and the 1998 tear-jerker A Champion's Fight. She also used that sexy voice of hers to give the Dark Knight's Catwoman life in the animated series Batman (1992 to 1995). In 2003, Adrienne resurfaced as the mysterious snake charmer Ruthie in the hit HBO cable series Carnivale, gaining a new generation of fans, even earning a Golden Satellite Award for Best Supporting Actress.
What is it about Adrienne Barbeau that makes her our dream girl as much today as in the 1970s? Maybe it's her never snobbish, natural sexuality, or maybe her sensuous voice? Or maybe it's her ability to show strength, while injecting an underlying vulnerability? Whatever it is, all I know is Adrienne's got it and she's got it in buckets. And judging by the number of websites and groups created in her honor; I'm not the only one with a hankering for the sexiest Scream Queen of all time.