Without question, one of the most breathtaking beauties to emerge out of the 70's "Blaxploitation" era was actress Vonetta McGee. This lovely Southern belle possessed the complete package; looks, talent and determination which should have made her a marquee name in Hollywood. Instead, this tantalizing, tan, and talented lady found herself in "Blaxploitation Hell", where her considerable talents were laid to waste.
Mississippi-born Vonetta made the trek to California in the 60's, not to be a film star, but to study law, enrolling at San Francisco State University. Her arrival on the west coast came at the peak of the civil rights movement and she quickly found herself a part of the social activism which was prevalent among much of the country's youth, particularly in the Bay Area. Searching for a way to become more involved in the struggle, Vonetta found her niche on stage as an actress. She joined The Aldridge Players West, a socially conscious performance troupe which articulated the Black struggle through the art of theater.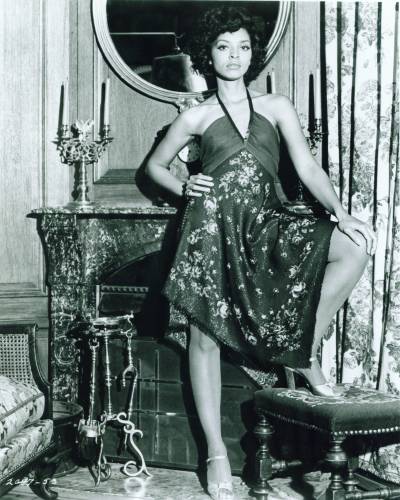 Although the air was thick with civil and social issues, still, a beauty such as Vonetta's would rarely go unnoticed. She was encouraged to participate in the Miss Bronze California beauty contest, where she walked away with the crown. A film career followed and Vonetta took off for Europe where she earned small roles in several low-budget movies. She returned to the States in 1969 and won a small part in the film The Lost Man, which starred African-American screen icon, Sidney Poitier. The film got her some notice, but it would be three long years before she would get her first major movie role.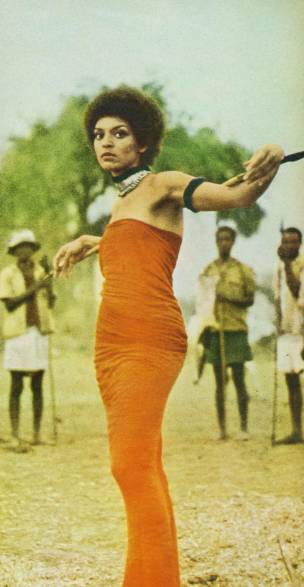 In 1972, Vonetta was cast in the murder mystery Melinda, playing the title character. Although her part was small (she is murdered early on in the film), it was vital, earning her rave reviews from both the New York Times and Village Voice, which both proclaimed her "the most beautiful woman in film!"
Suddenly, a new trend was brewing in Tinsel Town. Black-themed films had shown major power at the box office with movies such as Shaft, Super Fly and Vonetta's Melinda earning well over their low budgets. But instead of the productions getting bigger and the scripts getting better, Hollywood decided to churn out dozens of low-budget, badly written (and more often than not, badly stereotypical) Z-grade films which catered to the action motivated young urban crowd.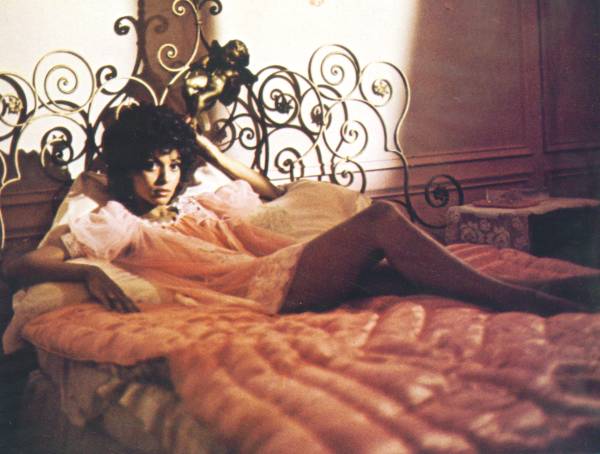 Over the next few years, Vonetta's resume would fill up with leading lady roles in "blaxploitation classics" such as Blacula, Shaft in Africa and Detroit 9000. She was working steadily but the roles were far from challenging. More often than not, she was cast as the supportive, understanding girlfriend, whose primary lot in life was to look cute and not get in the way of their super-macho male co-stars. Whereas Pam Grier, at the same time, was cementing herself as Hollywood's first Black Super-Woman, Vonetta was still waiting for the meaty role which would make her a household name. Ironically, she had lost an opportunity to play a super-heroine herself when the lead role in the 1973 film Cleopatra Jones, which was written by her then boyfriend, Max (Julien of The Mack fame), went instead to super model Tamara Dobson.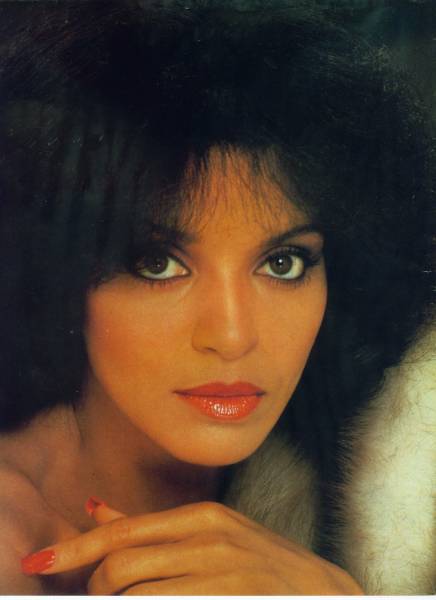 Throughout the period, Vonetta continued to work but had yet to see an A-Budget script. In 1975, that changed when Clint Eastwood chose her to star alongside him in The Eiger Sanction, which he also directed. It was a bit of cinematic history, being that it was the first time an African-American actress had been cast as the female lead in a mainstream Hollywood film opposite a white actor. Sadly, the role gave Vonetta about as much to do as her "Blaxploitation" films had, leaving her still knocking at stardom's door.
By the end of the decade, Hollywood had taken enough criticism for the racially insensitive "Blaxploitation" films and began to turn its attention towards the "Blockbuster" movies (which have dominated the industry up to the present). Vonetta, like many of her fellow black actresses of the era, found little, if any, work in the 1980's, making them the biggest casualty of the Hollywood "black out." Vonetta found work on the stage, doing off-broadway theater, as well as on the small screen. In 1985, she would star in the unbelievable Robert Blake TV series Hell Town and the short-lived television version of the Richard Pryor box office hit Bustin' Loose in 1987.
Although time has eroded our memory of this bronze beauty, we shouldn't let it decrease her role in film history as one of the major pioneering African-American actresses of the Blaxploitation era. Her beauty and talent may not have been properly utilized in her day, but it did serve notice that African American women took no back seat when it came to sex appeal. She may have been only a pretty face in most of her films, but her presence in the 70's would be a forerunner to the successes achieved by the Halle Berry's, Thandie Newton's and Vivica Fox's of today.