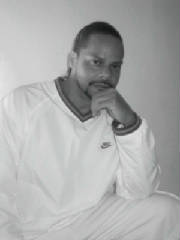 Daryl Keith Middlebrook is currently a Creative Writing student at Full Sail University, studying for his Bachelor's Degree in that field, with an emphasis on screenwriting. Mr. Middlebrook recently received an Associate's of Arts degree from the Los Angeles Film School where he studied film direction and screenwriting.
Prior to this Mr. Middlebrook successfully ran his own enterprise, Northern Sun Entertainment, which specialized in the procuring and reselling of vintage movie, music and sports memorabilia. Mr. Middlebrook was a top seller on Ebay for more than five years, and has earned praise as an expert in African American film memorabilia from the 1920's to the present.
Mr. Middlebrook served in the United States Army for five years as a telecommunications operator, achieving the rank of Sergeant and receiving an honorable discharge.
Logo Design and Poster created by Tara Barrett