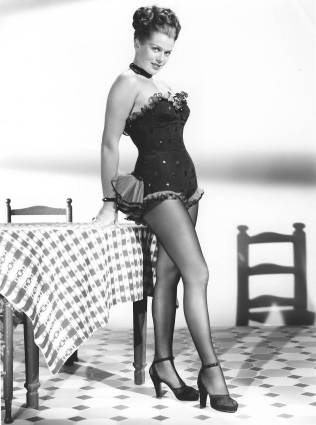 What constitutes stardom? A pretty face: charming personality, gorgeous legs? How about that all important asset, talent? The answer is all of the above, and none of the above. Why one pretty actress makes it while another, equally talented fails, is a mystery as deep as the Bermuda Triangle. Such was the case of ravishing redhead Janis Paige. Dancer; singer, actress, a true triple threat, Janis languished in B-Movie anonymity throughout her career. However, catch one of her films on television and you'll find it impossible to ignore her presence. Witty, great comedic timing and possessor of two of Hollywood's sexiest legs, Janis is always a pleasure to watch, despite the quality of the vehicle she is in.
Born Donna Mae Tjaden in 1922, this Tacoma, Washington native began singing at the age of five. Her mother had visions of her daughter singing opera, but little Donna Mae had dreams of her own, as she revealed in a 1945 Los Angeles Times interview, "I thought when I was a little girl that there would be nothing more wonderful in the world then to be called a star in pictures." After high school, Donna Mae, accompanied by her piano teacher, went on vacation to Los Angeles. However her short furlough turned into permanent residency, as she became completely infected by the "Hollywood bug." Donna Mae decided to stay in L.A., taking odd jobs while trying to inch her foot in the door. She eventually took a gig as a singer at the famous Hollywood Canteen (an R&R venue set up for servicemen on leave). While performing at the Canteen, Donna Mae decided she needed a more glamorous name. She chose Janis Paige (the first part of her name in honor of Elsie Janis, beloved entertainer of troops, while the second part, was her grandmother's maiden name).




Her big break came, when she was asked one evening to fill in for a name vocalist who failed to show. Those soldiers, marines and seamen took one look at Janis and a new cult following was born. With a big voice to go with her gorgeous gams, it wasn't long before Janis caught the ears and eyes of Hollywood talent scouts. In 1943, she was signed to a contract by MGM, where she did absolutely nothing. After a year, she was released from her contract with MGM, and signed with Warner Brothers. Several bit parts followed, including ironically, a small part in Hollywood Canteen, a film tribute to the GI venue that got her started. Her career wasn't taking off as she had hoped, still Janis persevered. She continued to entertain servicemen at the Canteen, as well as take a few modeling gigs. While it seemed that Hollywood was in no hurry to promote the Washington red head, Janis' popularity with the male population was a different story. It seemed as if every male congregation across the country was electing her Queen of something or other. Janis was crowned with such hormonally charged honors as Miss Wingspread of 1946, The Contour Queen, Miss Damsite and Miss Naval Air Reserve to name a few.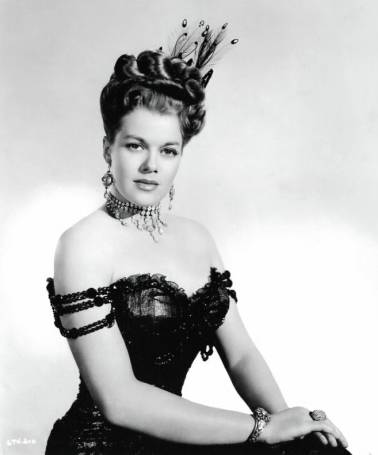 In 1946, Janis earned her first starring role in Her Kind of Man, opposite up and coming actor Dane Clark. Unfortunately, the film made nary a ripple with critics and at the box office. Similar results followed for the films The Time, The Place and the Girl, Of Human Bondage (a remake of the 1934 classic starring Bette Davis) and Two Guys from Milwaukee (Warner's copycat version of Paramount's Road to . . . series starring Bing Crosby and Bob Hope) all released in 1946. While Janis was gorgeous in her early films, the parts didn't allow for her natural charms to be used properly. She was merely a pretty prop usually cast as the "dopey dame," one-dimensional characters which the public easily forgot.

After dozens of "cutesy" roles, Janis was ready for meatier material. In 1948, she would star opposite the great Bette Davis in Winter Meeting, a drama which cast Janis as Peggie Markham, a good-time girl who spars with Davis for the affections of returning war hero Jim Davis. Janis proved capable in her first serious role, but the film was slow and meandering, which would have benefitted from Janis being on the screen more. Janis returned to more familiar ground later that year in the screwball comedy Romance on the High Seas. Although she is listed as the film's star, the film was actually the springboard for Doris Day's career (her first film), and it's Ms. Day who gets the bulk of the screen time. The following year, Janis was cast opposite actor Wayne Morris for probably her best film and performance, The House Across the Street. In this snappy, quick moving, comedy/drama, Janis shines as feisty reporter Kit Williams. While the film was standard B-Movie fare, it proved that given decent material, Janis Paige could be a dominating screen presence.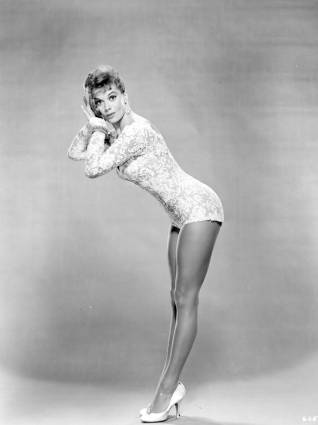 Janis continued on the B-Movie train for a couple more years, then found herself unceremoniously tossed aside by Warner Brothers. Without a film contract, without a studio, Janis decided to return to her first love, singing. Next stop would be Europe, where she hit the nightclub circuit. After a short European stint, Janis returned to North America, but this time, she headed across the border to Canada It was during a stint at a Canadian nightclub that a Broadway producer caught Janis' act. The producer wanted Janis for their new play Pajama Game. Janis caught the next thing moving to New York, and excelled in a role that was perfect for her, singing, dancing, and just being her usual nutty self. Pajama Game was a huge success, and it put Janis back on the Hollywood map. However, lady luck was still playing games with Janis' career. When her old bosses' Warner Brothers, decided to turn the play into a film in 1957, the entire Broadway cast was signed on, except Janis. Once again, Janis was usurped by America's sweetheart, Doris Day for the starring role. As consolation, Janis was cast in the film version of another Broadway hit, Silk Stockings, however, not in the starring role, which went to Cyd Charisse, but in the second lead. Janis' performance in the 1957 film is pure energy. She easily steals some of Charisse's thunder in this enjoyable musical with a flammable rendition of Cole Porter's Stereophonic Sound.

While Janis' Hollywood career seemed to be revived, her personal life was anything but rosy. A messy divorce from producer Arthur Stander made headlines in 1957. Her second marriage, Stander had produced Janis' short-lived 1955 television show It's Always Jan. However this union seemed doomed from the beginning, marred by allegations of Stander's verbal and physical abuse. Love would find Janis again in 1962, when she married Academy Award winning songwriter Ray Gilbert. For Janis, the third time truly seemed to be the charm, and the two remained married until Gilbert's death in 1976.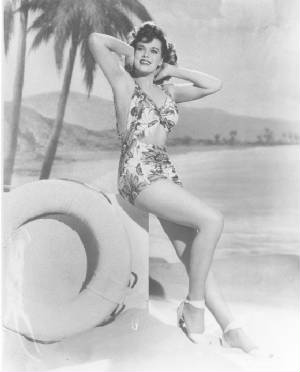 Despite the success of Silk Stockings, the major studios still inconceivably were not knocking down Janis' door. With no solid film offers in sight, Janis decided to throw her chips down with the new game in town, television. Janis made appearances on dozens of television shows, introducing a new audience to her energized style of entertainment. From dancing and singing with Dean Martin and Jerry Lewis to comedy skits with Milton Berle to dramatic performances on Climax Mystery Theater, Janis seemed to find a venue that could actually appreciate her talents. For the next fifty years, Janis would appear in over sixty television series and movies, providing many memorable moments such as playing Lou Grant's girlfriend on The Mary Tyler Moore Show, or nutty free-spirited Auntie V on Eight is Enough, and probably her most remembered role, as the vixen who nearly leads Archie Bunker to cheat on Edith, on All in the Family.

While she never set the town on fire, her spark burned just as bright. With a few breaks here and there, the legacy of Janis Paige might have been complete with Oscars and Emmys. Instead, what she leaves behind is the legacy of a survivor. When the great female dancers are mentioned, many will throw out the names of Ginger Rogers, Leslie Caron and Cyd Charisse, and when there's talk of the beloved movie "girls-next-door" undoubtedly tongues will wag about Doris Day, Debbie Reynolds and Jane Powell. Yet, what did they have that Janis Paige didn't? It definitely wasn't charm, beauty and talent, because Janis had that in abundance.