CLAUDIA CARDINALE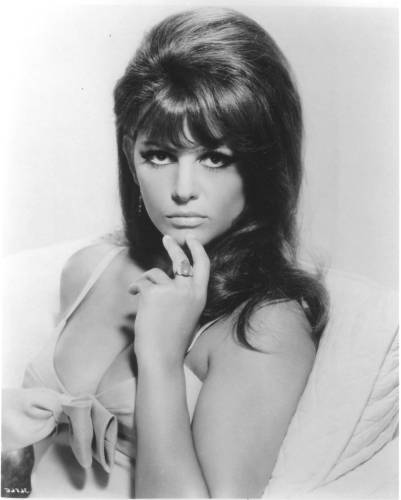 In the seventies, a tobacco company once boasted that smokers would walk a mile for one of their cigarettes. Well, I'll be damned if I'm gonna wear out a good pair of Jordans for a cancer stick. However, I'd have crossed the Sahara Desert to enjoy the pleasures of Tunisia's most fondlesome flower, Claudia Cardinale. With no disrespect to the more popular sophia Loren and Gina Lollobrigada, in my humble opinion, Claudia was the most exotic and invigorating of the major Italian glamour girls of the fifties and sixties. With her signature raspy voice, large innocent schoolgirls' eyes and lusty Renoir figure, the amatory powers of Claudia Cardinale were potent to say the least.
Born in Tunis, Tunisia, Africa, Claude Josephine Rose Cardinale was the product of a French mother and Italian father. Growing up, Claudia had ZERO aspirations for a movie career. By the age of eighteen, she had enrolled in college to become a teacher. It would take one of those true-to-life Hollywood circumstances to turn this future grade school marm into one of the sexiest actresses to grace the silver screen. "I was going to college to teach young children, when they organized a kind of charity day." She told the Los Angeles Times. "I was helping my mother and people from the Italian government organize an Italian film festival in Tunisia. I was looking at the girls on the stage and I wasn't suppose to be there. Someone pushed me out on the stage and I was named the Most Beautiful Girl in Tunisia." Her prize was a trip to the Venice Film Festival, an excursion which would change her life forever.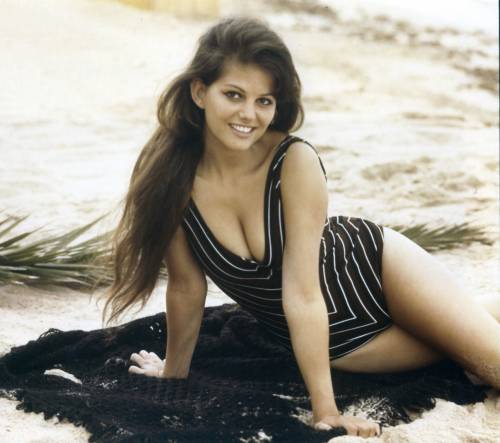 While in Rome, she was enrolled in the Centro Sperimentale acting school, however after a short period, Claudia became bored with acting and decided to return to Tunisia. Fortunately, for us, the Italian film industry's persistence paid off and she was persuaded to return to Italy. In 1958, she signed a tong term contract with famous producer and director Franco Cristaldi. The producer's influence extended beyond her screen career, as the two quickly became lovers (and eventually husband and wife). Claudia would find herself not only obligated to Cristaldi as his wife, but he would also weld a heavy controlling hand on her film career. He induced her to sign a very restrictive contract, one reminiscent of those used during the old Hollywood studio days. Claudia was forbidden to cut her hair, marry or gain weight. Cristaldi himself, would select any and all pictures she was to star in. Scandal was out of the question, as proven in 1959, when Claudia had a "mysterious affair" which produced a child out of wedlock. She was coaxed into introducing the boy as her brother instead of as her son. Despite his Svengali mentalilty, to Cristaldi's credit, he masterfully placed Claudia in some of Italy's most critically acclaimed films. Claudia would learn her craft under some of Italy's greatest directors.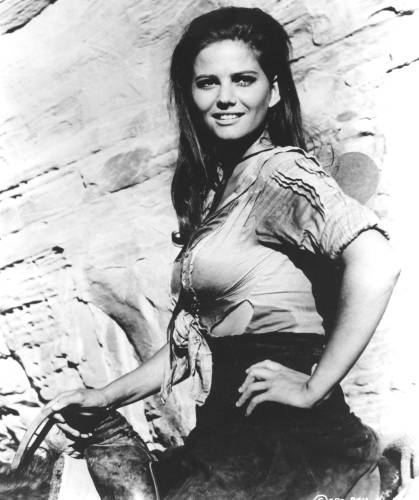 Claudia's first major film would be I Soliti Ignoti (Big Deal on Madonna Street USA title), directed by the great Mario Monicelli in 1958. A hilarious comedy about a band of bungling burglers, the movie went on to win the Oscar for Best Foreign Film. More hit films followed: Un Maledetto Imbroglio (The Facts of Murder) in 1959 placed her under the direction of Pietro Germi (Divorce - Italian Style). 1960 saw her ignite the screen in Valerio Zurlini's La Ragazza con la valigia (Girl With a Suitcase). A film filled with superb symbols of rigid social structure and discrimination, Claudia was well up to the task of carrying this metaphoric film. Suddenly, her star was illuminating brighter and brighter and across Europe. Her face and lovely figure would be seen on dozens of magazine covers. However, it is ironic to note that as her popularity was rising, one of Claudia's most treasured assets had yet to be revealed on screen (no, not those assets), that of her sexy, raspy voice. Initially, it was believed that her natural gritty vocals would be a turn off to movie goers primed on the silky tongues of Lollobrigida and Brigette Bardot. Claudia faced the first real dilemma in her career. Despite the fact she had starred in several successful films, none of those films featured her real speaking voice. No one questioned her screen presence, however, would audiences still adore her after hearing her? In the 1930's after the advent of sound in films, many silent screen stars faded away due to comical or poor speaking voices that didn't fit their sceen persona. Would this be Claudia's destiny as well? In 1963, Director Luigi Comencini decided to gamble that audiences would adore Claudia's vocal uniqueness as much as her beauty and charm. So, five years into her career, Claudia's real voice was finally heard in Comencini's La Ragazza di Bube (Bebo's Girl). Comencini's roll of the dice paid off as the film became a critical hit. Claudia, voice and all, was now on her way. Her next stop; working for the master himself, Frederico Fellini.




In the acclaimed film 8 1/2, Claudia plays the mythical "perfect woman" in what is basically Fellini's personal autobiography. A riveting display of symbolisms and self-destructive nihilism, Fellini would garner the Oscar for Best Foreign Film in 1963. With two Academy Award winning movies on her resume, Claudia was finally ready for her American screen debut. Cristaldi couldn't have selected a better vehicle to introduce Claudia to American audiences then the Blake Edwards comedy, The Pink Panther. Starring opposite the inimitable Peter Sellers, Claudia is at her finest, playing well off the rascally Sellers and affirming that all that fine training under the Fellini's and Monicelli's was not in vain. In the film she plays Princess Dala, owner of the Pink Panther diamond. Claudia plays the role with a nice blend of clever comedic timing as well as her usual sexy, sensual screen presence.
America loved Claudia, raspy voice and all, and more english films followed. In 1964 she held her own opposite legends John Wayne and Rita Hayworth in Circus World. In Blindfold, Claudia was matched with Rock Hudson, and their on-screen chemistry is what keeps this some-times tedious film interesting. Claudia would then star, in my opinion, in the two best westerns of the sixties The Professionals in 1966, and Sergio Leone's Once Upon a Time in the West in 1968. In 1969, A Fine Pair would reunited her with Hudson, with Claudia at her coquettish best as a jewel thief who of course, steals Rock's heart. It wouldn't be a stretch to say that Claudia was easily Rock Hudson's best on-screen partner behind Doris Day.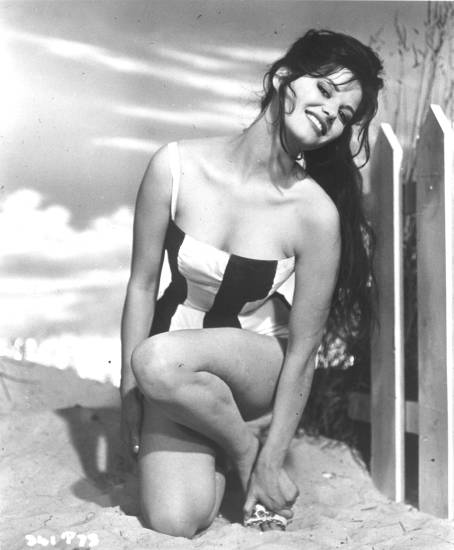 While her career was ascending, Claudia's personal life was spiraling toward disaster. Her marriage to Cristaldi had gone sour years ago. "For more then 15 years I was considered and treated like an object or a project to be manufactured and merchandised." She would tell the L.A. Times in 1975. The two divorced that same year. Claudia returned to Italy, where the bulk of her film work would be shot. Her only major American ventures would be the 1977 miniseries Jesus of Nazareth, in which she plays the fallen adulteress brought before Jesus by a blood thirsty mob. 1979's Escape to Athena was disappointing and amaturish and a waste of Claudia's talent and time.
Beyond her film life, Claudia found love again in the arms of director Pasquale Squitieri. The two never married, but have lived together for over thirty years, producing one child, a daughter. Pasquale would also adopt Claudia's son as his own. As she has matured, Claudia has lent her voice to several humanitarian causes. She has become a vigilent spokesperson for UNESCO (United Nations Educational, Scientific and Cultural Organization) and has fought to improve the living conditions and educational opportunites of girls and women of Mediterranean countries.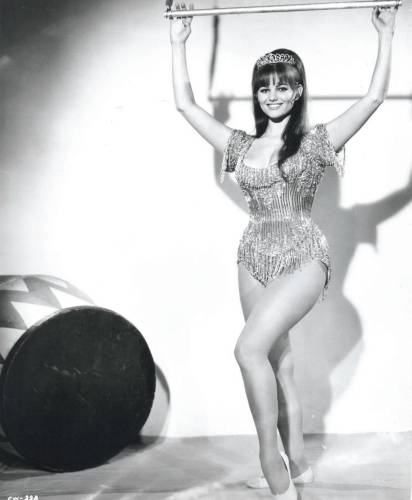 Looking back over her career, it has been said that Claudia Cardinale was a distant third to Loren and Lollobrigida in regards to film achievements. It has also been said that Claudia was merely a Bardot clone, playing on sex appeal alone. While many feel that Claudia was nothing more then Franco Cristaldi's pawn, and deserved none of the credit for her career. However, I'd argue strongly in Ms. Cardinale's defense on all three counts. First of all, on the charge that Claudia couldn't hold a torch to Loren and Lollobrigida, I say, examine Claudia's body of work, film against film. She has been in far more important and influential films then either of the two L's. Secondly, for those who assert that Claudia was just Italy's answer to Bardot, a sex kitten with little else to offer, I implore you to take a look at her gritty prostitute-turned wife in Once Upon a Time in the West, or her comedic prowess in The Pink Panther and then tell me that she didn't have more depth in her little finger then Bardot. And finally, I beg to differ with those who charge that she was merely Cristaldi's marionette. True, he may have pulled the strings that launched and sustained her career, however, it was Claudia's radiant screen presence and talent that held viewers in awe. It was those hypnotizing brown eyes, sexy, sultry looks and yes, that gorgeous raspy voice that left fans as spellbound then, as we still are today.