This Weeks Feature Doll...
LYNDA CARTER
How do you reduce a room of small time thugs into jelly? Easy, her name's Wonder Woman. What can make a group of testosterone driven athletes turn away from a football game? Why, Wonder Woman of course. Who can break the concentration of two mental giants knocking heads in a game of chess? The answer once again...Wonder Woman. I lived all the above scenarios as a teenager growing up in Detroit in the 1970's. Whether hanging with wannabe thugs, out ballin with the fellas or getting my intellectual thing on, everybody and everything stopped when luscious Lynda Carter strutted in front of the camera in that sexy red, white and blue costume. Hollywood has ventured into many illicit affairs with comic book characters over the years (Batman, Superman, The Hulk, Spider-Man, Daredevil, X-Men and Electra to name a few) with mixed results. Many times the difference between box office and ratings success has relied primarily on the casting of the central hero. For instance, Christopher Reeves was a "thumbs up" casting decision for the role of Superman, however many comic book fans cringed at the decision to cast Ben Affleck as Daredevil or George Clooney as The Dark Knight. However, when CBS cast then little-known Lynda Carter, as the greatest female super hero of all time, it was a stroke of casting genius comparable to Sean Connery as James Bond or Vivian Leigh as Scarlett O'Hara.




Enter supporting content here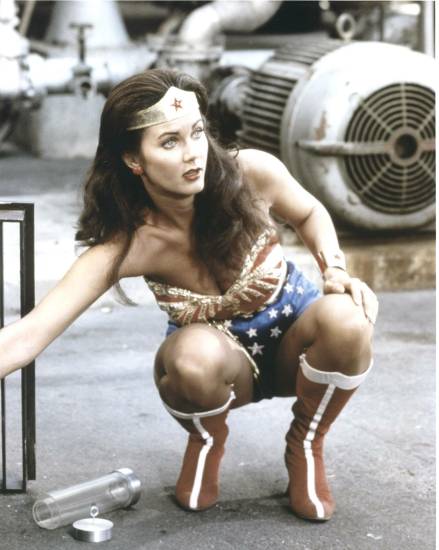 The beauty that is Lynda Carter is the direct product of the marriage of Colby Carter and his lovely Mexican-American wife Jean. Reared in Phoenix, Arizona with her sister and brother, Lynda was encouraged by her mom to cultivate her musical and dance skills. Those same talents would eventually serve as the first stepping stones toward a Hollywood career. At the tender age of fourteen, Lynda joined a local singing group called The Relatives, where she built up a loyal following with the Phoenix college crowd. Eventually, Lynda left The Relatives to take over the lead vocals of a more prominent band, The Garfin Gathering. Soon, Lynda was taking her act on the road, belting out songs in front of Las Vegas audiences. After a few years on the road, Lynda decided to return to Phoenix, where her sister convinced her to enter the Miss World USA contest. Those judges were no more nearsighted then the rest of us, and Lynda was eventually crowned Miss Arizona. In 1972, Lynda completed the cycle and was crowned Miss USA, taking her next step to fame and fortune.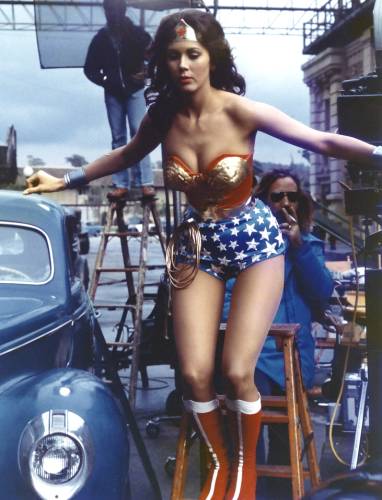 With a beauty contest title underneath her belt, Lynda decided to put everything on the table. She packed her bags and took off for Hollywood to pursue an acting career. After a couple of years of struggling, her luck took a turn for the better. Her agent sent her out on a cattle-call for the coveted part of comic book heroine Wonder Woman. Developed by Stanley Ralph Ross, (the same man behind The Man From U.N.C.L.E. and Batman in the sixties), Ross was seeking the perfect female specimen to play Charles Moulton's heroic star-spangled clad Amazon in a new television series for ABC. Producer Douglas S. Cramer, stated that they were looking for an actress who combined all the attributes of the comic book character, intellect, beauty and great physical skills. Enter Lynda Carter, and the auditions were called off. Lynda was signed to the role and the former beauty queen from Arizona began prepping for the role that would define her career.
ABC aired the two-hour movie pilot in 1975, adding former Carol Burnett straight man Lyle Waggoner as Major Steve Trevor, Wonder Woman's never-revealed object of affection. The pilot included a great cast of character actors such as Cloris Leachman as Queen Hippolyte, Stella Stevens, John Randolph and the always underrated Red Buttons. The New Original Wonder Woman was a smash hit, and the series was picked up and aired in 1976. In the original concept, Lynda's character is sent to "man's world" from Amazon Island in the 1940's at the height of World War II. Although the novice young actress' shortcomings are very noticeable in the first season, Lynda was able to give Wonder Woman a naive honesty which allowed us to forgive her lack of acting experience.

After the first season, ABC didn't pick the show up, luckily for Lynda and her fans, CBS grabbed up the series where it enjoyed another three years on the tube. When the show changed networks, changes were also made to the storyline. Wonder Woman was taken out of the 40's and moved to the swinging 70's. Instead of her alter-ego Diana Prince being a secretary, she was now a slick government agent. Another major change was the maturation of Lynda's acting. Whereas before, she was working on charm alone, now Lynda was able to imbue Wonder Woman with a stronger believability and character integrity. Unlike Adam West, who seemed to be sleep walking through every episode of Batman (thank God for all those great guest-villians that made the show bearable), Lynda capably transformed Wonder Woman from campy caricature into a full blown human being.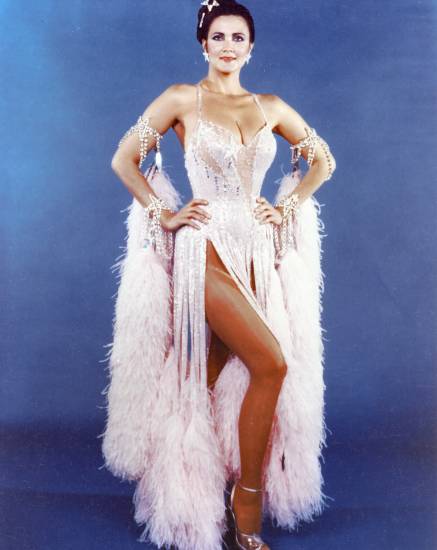 When the show was finally cancelled in 1979, the name Lynda Carter became synonymous with the character Wonder Woman. However, unlike many actors who turn bitter after becoming typecast from playing cultural legends, Lynda relished in the fame that Wonder Woman had brought her. In the 1980's, she continued to find steady work, appearing in more than a dozen made-for-television movies. For those who took the time to watch, they came away quite surprised as to how strong an actress Lynda had become. Her work in such films as 1983's Rita Hayworth: The Love Goddess, and 1991's Daddy, a Danielle Steele adaptation, proved she had come a long way from Wonder Woman.
Away from the camera, Lynda's first marriage ended in divorce. Fortunately, true love was right around the corner. In 1984, Lynda married prominent Washington D.C. attorney Robert Altman, and the union produced two children. Suddenly, Hollywood wasn't as important as love and raising a family. Lynda slid smoothly into the role of Washington socialite. Sadly, dark clouds loomed just over the horizon for the happy couple. In 1991, Altman became enmeshed in an international bank scandal. Her husband facing severe criminal charges, their assets frozen by the government, Lynda became a "true Wonder Woman," standing firmly by her man until the charges, some two years later were completely dropped.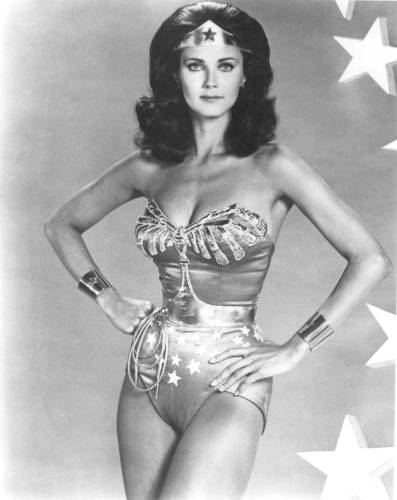 Today, as beautiful and ageless as the immortal Amazon she played, Lynda is a happily married "sometimes" actress. In fact, she makes a comeback of sorts in two films released in 2005, popping up in a cameo in The Dukes of Hazzard, a remake of the hit 80's television show. She also can be seen as Principal Powers, head of a school for, what else, super heroes, in Disney's Sky High. Also of note is the much rumored Wonder Woman movie which is still casting for that special actress for the much coveted lead. Whomever they settle on, it's a damn good bet that she'll never fill that red, white and blue bustier better then Lynda Carter, who is recognized by her millions of fans as the one, true Wonder Woman.