Life for Jane Russell began in tiny Bemidji Minnesota, the only girl of five children born to Roy and Geraldine Russell. The Russells soon left the frigid north and headed west, settling in Glendale, California. Possessing an independent spirit, tomboyish Jane could more then hold her own amongst her four brothers. Her mother, desiring to see her daughter more lady-like, attempted to enroll Jane in a finishing school. Jane would have none of that, so the two compromised and Jane enrolled in a drama school instead.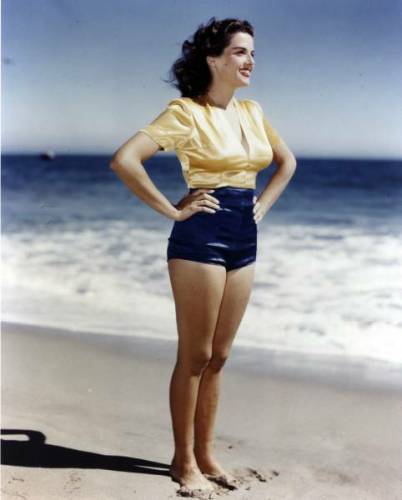 Mother Russell actually had nothing to worry about in regards to her daughter's femininity. Nature took its course, and Jane blossomed into quite a voluptuous woman. That shapely figure soon caught the eye of a local photographer, and a short stint as a model ensued. In fact, it would be one of her photographs that would eventually propel Jane into a life and career she had only dreamed of.
In 1939, a Hollywood agent caught a glimpse of one of Jane's photos. He gave the picture to billionaire Howard Hughes, who owned RKO Studios. Hughes was casting for a new Western called The Outlaw, which was loosely based on the life of Billy the Kid. Hughes wanted an unknown for the female lead of Rio McDonald, a tough Latin spitfire. Jane's screen test impressed both Hughes and director Howard Hawkes, and she was quickly signed to a contract. Suddenly Mrs. Russell's "tomboy" was going to be a glamorous movie star at the tender age of nineteen.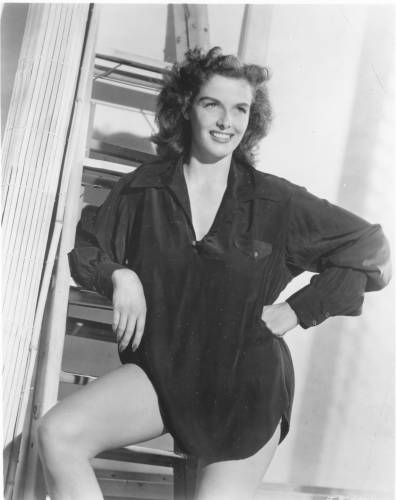 For the lead in The Outlaw, another novice actor Jack Buetel, was cast as Billy the Kid. Gambling on two unknowns was seen as a low risk proposition with the masterful Hawkes directing. The genius behind such films as 1932's Scarface, The Road to Glory in 1936 and the classic comedy Bringing Up Baby in 1938, Hawkes would have been just the hand to guide this film and it's two young actors into respectability. However, Hughes disagreed with Hawkes vision for the film, and mid-way through, the director was unceremoneously fired. Hughes decided to direct the film himself. The billionaire had produced numerous films, but had never directed one, and his inexperience showed with the finished product. What might have been a very interesting film and excellent debut for Jane as well as Jack Buetel under Hawkes, was instead transformed into a campy, convoluted mess by Hughes. Slow moving, badly acted, Hughes seemed more interested in sexually suggestive scenes and lingering shots of Jane's luscious bosom then creating a top-notch film. The Outlaw was a horrible movie and seemed well on it's way to box office ruin, had The Hays Office not stepped in.
The Hays Office was Hollywood's official watchdog organization, ensuring that all films released by the studios met outlined "standards of decency." After screening the film the Hays Office demanded many of the suggestive scenes be removed. Hughes refused to edit an inch of film and fought the Hays Office recommendations. The film was banned and The Outlaw wouldn't see the light of day for another three years.
When the film finally hit the screen in 1943, all the steamy controversy surrounding the film had aroused the curiosity of movie goers. Hughes added to the controversy with a titillating ad campaign featuring huge billboards of a sultry Jane Russell lying in a haystack holding a gun. Three years removed from it's completion, thanks to free publicity from the Hays Office and Jane's sexy billboards, The Outlaw became a box office success.
Overnight, the name Jane Russell became synonymous with the title sex goddess. Her face and figure graced the covers of just about every Hollywood publication. Every GI overseas had that bodacious body plastered to their walls. pilots painted Jane's likeness on their planes, while Marines carried Jane pin-ups folded-up in their rucksacks. She was the fantasy of millions, yet in reality, the real Jane Russell was unaffected by the sudden overflow of publicity and gossip. The same year The Outlaw made her a star, Jane married her high school sweetheart, All-American UCLA football star Bob Waterfield. For most actresses in golden-age Hollywood, marriage at the height of their career was frowned upon or cleverly concealed from public knowledge. However the marriage between the screen's newest sex symbol and the virile football hero was so Hollywood like, that Hughes never dreamed of covering it up.
New and naive to the Hollywood game, Jane followed Hughes' direction of her career with blind faith. RKO promoted Jane as a sexy, tough as nails dame, who had been around the block a couple of times. Films were chosen for her that always kept her close to that image such as The Paleface with Bob Hope in 1948, His Kind of Woman in 1951 with Robert Mitchum and The Las Vegas Story opposite Victor Mature the following year. Movie goers responded well to the sexy brassy brunette; women liked her toughness, confidence and quick wit, while men, well men just liked her period.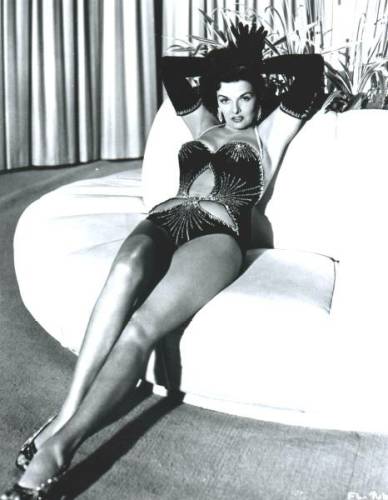 In 1953, Jane's career detoured from the B-Movie path when Hughes lent her out to Twentieth Century Fox to pair with up-and-coming bombshell Marilyn Monroe for Gentlemen Prefer Blondes. The project also reunited Jane with director Howard Hawkes. A musical, the film cast the delicious duo as nightclub performers Lorelei Lee (Marilyn) and Dorothy Shaw (Jane). Gold-digging Lorelei Lee can't get her millionaire boyfriend Mr. Esmonds (Tommy Noonan), to defy his father and marry her. Guilt-ridden Esmonds sends the girls on a cruise to Paris, with Lorelei hoping that with time to think about it, Esmonds will concede to marry her. However, things heat up aboard the liner when Lorelei becomes infatuated by the deep pockets of an elderly millionaire, while the more down-to-earth Dorothy, gets smitten with the love bug cortesy of private investigator Ernie Malone (Elliott Reid). As it turns out, Malone was hired by Esmonds' father to expose Lorelei as a gold-digger, which of course, causes a rift between the two lovers. Filled with some of the most memorable and dynamic songs in Hollywood musical history, Gentlemen Prefer Blondes propelled both Jane and Marilyn into full superstar status. Under Hawkes, the two sexy divas turned in probably their finest on-screen performances. The chemistry between Jane and Marilyn was pure magic, contrary to rumors that the two feuded and didn't like each other (which wasn't true, the two got along fine).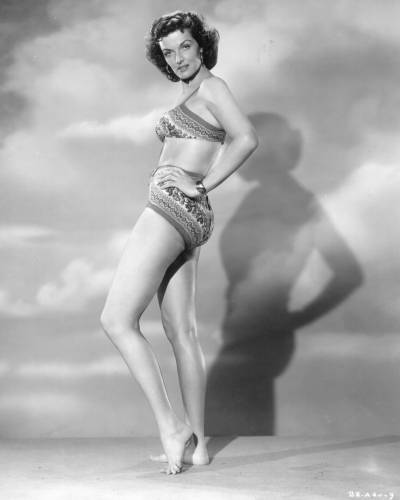 Jane's position as Hollywood's hottest sex symbol was now solidly entrenched. However, behind the hoopla, she was still just Roy and Geraldine's down home girl from Glendale. She may have been a sex goddess to the masses, but to her three adopted children, she was simply known as mom. Many of her admirers, so focused on her fabulous figure, never knew that Jane had a passion for homeless children. She was pivotal in creating WAIF (a waif is a child without a home) a division of the International Social Services, which opened the door for intercontinental adoption.
Career wise, Jane should have shot into the stratosphere after Gentlemen Prefer Blondes, but Hughes instead, continued casting her in sub-standard material. Such was the case in 1954, when Hughes decided to do a musical of his own. The French Line cast Jane as millionaire oil baroness Mame Carson, who, after breaking it off with her fiance, takes a cruise under the guise of a pennyless model. While aboard, she falls in love with a French romeo (played by Gilbert Roland) who, of course, falls in love with the woman and not her money. Although promising, the film misses the mark story and song wise. The only memorable highlight being that of Jane in the skimpiest outfit ever, doing a very risque number for the time. More such films followed, such as Underwater, Foxfire and the ill-advised Gentlemen Marry Brunettes all released in 1955. Only two years removed from her big success in Gentlemen Prefer Blondes, Hughes had guided Jane back on the bumby B-Movie backroads.
As the 50's rolled out, Jane became disillusioned with her film career. She began looking towards other venues, she first tried her hand at a lounge act and then took to off-Broadway live stage. While things looked bleak career wise, at home, the skies were darkening for Jane as well. Both Jane and Bob had developed drinking problems, which led to their twenty year marriage ending in divorced. More tragedy followed when her second husband Roger Barrett died only months after they were married in 1968.
Despite the hard times, Jane pulled herself up by her bootstraps and moved forward. Critical success came her way in the Broadway musical Company in the late 60's, and in the 70's she became the spokesperson for, how fitting, Playtex bras. Good invesments kept her financially stable, and today, she can occasionally still be seen giving her heartfelt testimony on Christian television.
Legend or myth? Saint or sinner? Much has been written and said about Jane Russell; pin-up fantasy, sexiest bosom in Hollywood, fiery, acid-tongued, hard lovin', hard drinking, prayerful and charitable. Much of it true, some, the imagination of studio press agents. However, one can truthfully say that once the smoke cleared, what's left may be less then goddess, yet far more human then given credit for.