ADELE JERGENS
What is it about those New York girls that make men crazy? Is it their street savvy? Knowing that if you got in a beef at the club, she's got your back? Or is it the way they can go from tender to terror at the drop of a hat? Whatever it is, that's what sexy Adele Jergens had. This brassy, bawdy blonde made a career out of playing vivacious barroom broads who knew their way around the hood, and to a man's heart.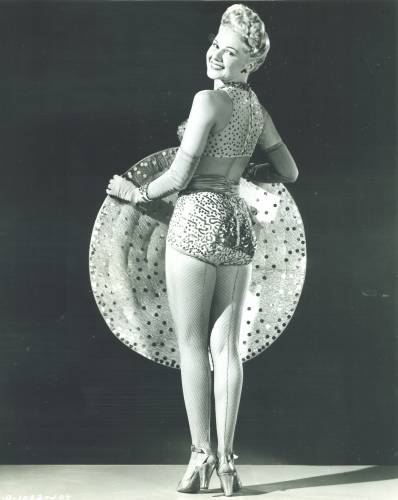 Adele Jergens grew up during the Great Depression, a product of the tough Brooklyn, New York streets. Life in the Jergens home was anything but stable, which led to Adele having to learn to fend for herself. When her considerable"feminine charms" began manifesting at an early age, Adele decided to "use what she had to get what she wanted." At the age of 14, she was dancing in local burlesque shows. Dubbed the "girl with the million-dollar legs, Adele soon graduated to higher class venues, dancing in Broadway chorus lines such as the Ziegfield Follies. She later became one of the leggy, legendary Rockettes, earning the honor of "Number One Showgirl in New York City." In 1939, she pushed her PR button even further as she was crowned "Miss World's Fairest at the World's Fair hosted that year by her native New York.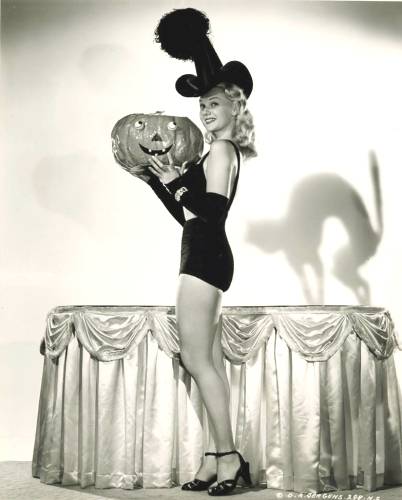 The highly visible Ms. Jergens was offered a movie contract by Columbia Studios in 1944. After several bit parts, Adele was selected for the starring role opposite Cornel Wilde in 1945's A Thousand and One Nights, A comical retelling of the Aladdin and the Lamp story. For her first starring role, Adele basically served as eye-candy, standing around waiting to be saved by Wilde. However, fans wanted more of the girl dubbed "The Eyeful" by Hollywood insiders, and Adele's career was off and running.
Columbia cast Adele in several Cutesy-pie roles over the next few years which kept her visible but not very interesting. It wasn't until she turned on the Brooklyn charm in 1948's I Love Trouble that she seemed to find her niche. Playing the "not-so-good girl," Adele shined in this "Chandleresque" film noir. Similar roles followed such as The Woman from Tangiers and The Dark Past opposite William Holden, both also released in 1948. One other role that year saw Adele return to her showgirl roots as she starred in the film Ladies of the Chorus, playing of all things Marilyn Monroe's mother! The fact that Adele was only nine years older then Marilyn, proved that she wasn't so full of herself to feel threatened by the sexy Monroe.
In 1949, Adele starred in The Treasure of Monte Cristo, which was an excellent film noir film set in San Francisco. Adele was decadently delicious as the bad girl turned good opposite leading man Glenn Langan. Their chemistry on screen followed them into their personal lives as the two married that same year.
A few more good roles followed Adele into the 50's, such as the Bowery Boys vehicle Blonde Dynamite and Armored Car Robbery both in 1950 and Somebody Loves Me in 1952. However, by the mid-fifties, Adele's name began to drop further and further down the cast list. Her film choices began to narrow and she was now frequently seen classing up B-movie fodder such as 1956's Girls in Prison and Runaway Daughters.
Adele decided to retire from Hollywood in 1956, to raise her daughter Tracy. Against Tinsel Town norm, Adele and Glenn enjoyed a happy relationship and remained married until his death in 1991. Sadly, Adele Jergens passed away of natural causes in 2002. However, her image is forever captured on celluloid, allowing us to enjoy this sassy, sexy Brooklyn babe in all her shining femme fatale glory.